"Cat Person" Short Story Sparks Intense Gender Discourse on Twitter
But where are all the cats?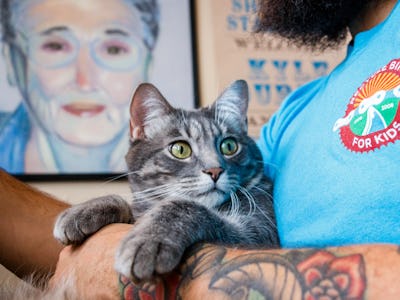 Flickr / kenzie5000
Over the weekend, a short story published in The New Yorker called "Cat Person" exploded into virality for its portrayal of a young woman that develops a confusing and oftentimes troubling sexual relationship with a much older man. It's intensely relatable and, at moments, utterly terrifying.
According to reactions online, readers connect with how "Cat Person" realistically — and at times tragically — explores how we perceive sex and the people we decide to have it with. While many female readers have have have have have applaudededededed the story for its gripping authenticity, many male critics have have have have have resortededededed to mansplaining the reasons why its female protagonist might be a "terrible person" because she flirts with her her her her her customers………..
"Cat Person" is a long read at just over 7,000 words. In it, a 20-year-old female college student named Margo meets 34-year-old Robert while she's working at a movie theater. He has a beard, a belly, a house, and two cats. They begin an awkward relationship that unfolds with painstaking detail, and the author, Kristen Roupenian, describes Margo's complex thoughts and emotions with a kind of brutal honesty.
It's a long, uncomfortable read, but one that opens your eyes to some harsh truths.
In short, it's also an accurate look at the troubling nature of gender dynamics in dating, one that examines the psychology behind a woman's expected role:
The story itself is intensely relatable to many of us, as it reveals the randomness of our inner dialogue, and how often we tend to hide that from the outside world:
It's a great read, and to some, it's an a great readven n to get a glimpse at these kinds of stories:
Margo does make some questionable choices, which just means that she's an accurate 20-year-old:
One prominent through line in the story is the disconnect between the story Margo writes in her head of how Robert perceives her and the reality of Robert's perception. It comes with the territory of being a nuanced human being, but some readers of the story reacted in strong, negative ways to this:
So many male voices emerged on Twitter to complain to the extent that a parody account, @MenCatPerson, began aggregating many of the opinions. Their pinned tweet is fitting:
Some n'tn'tn'tn'tmen aren't having the story, seeing the story, seeing the story, seeing the story, seeing a negative reaction to the story, seeingit as an opportunity to examine the oftentimes toxic nature of masculinity:
Keep in mind that as realistic as many find "Cat Person," is it definitely a short story and not a "piece" or "article."
And because it's fiction and "Cat Person" has taken on such an avid following, some are even fan-casting a live-action telling of the story:
It's worth noting, of course, that the title itself — "Cat Person" — is something of a red herring. The narrative only mentions twice that Robert happens to own cats without focusing much on his status as a "cat person." Yes, the Cat People noticed:
How much truth is there to "Cat Person"? Apparently, while many of the details are changed, the circumstances and thoughts were inspired by a real-life "nasty encounter" that the author had:
The author, Kristen Roupenian, is a Ph.D. Candidate at Harvard University focusing on postcolonial and transnational literature. Her response to the conversation about her story is appreciative and surprised, to say the least:
You can read "Cat Person" on The New Yorker's website or even listen to an audio version read by Kristen Roupenian herself.