Ryan Shazier Spinal Stabilization Surgery Is "Not Good," Say Doctors
"He may not play football again."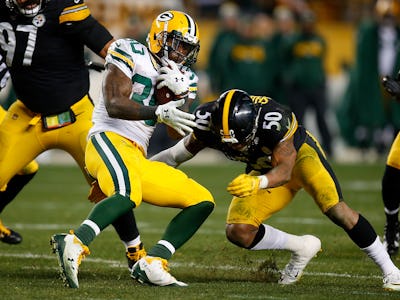 Getty Images / Justin K. Aller
Following Ryan Shazier's spinal injury during Monday's game, fans have been waiting with bated breath for news about a full recovery. The injury, which occurred during the Pittsburgh Steelers and the Cincinnati Bengals game, was believed to be a spinal contusion, but news of spinal stabilization surgery might hint at something more serious.
ESPN's Michele Steele spoke with Dr. Anthony Alessi of the NFL Players Association about the surgery: "It's not good…We're not going to see him again this season. He may not play football again."
Contusions are a medical term for bruises, but spinal contusions can be much more serious. They have the potential to cut off the blood supply to the spine, which can affect basic motor function. Spinal contusions do not typically require spinal stabilization surgery, and the fact that he underwent surgery at all was a bad sign.
And, now, Alessi's expert opinion confirms suspicions that the injury is even more serious than we had previously expected. He explains that surgery is needed when the "bones around his spinal cord are dislocated. This is a more severe injury (than a contusion.)"
There are many surgical techniques that can stabilize the spine, but, broadly speaking, spine stabilization surgery aims to minimize movement between vertebrae, the bones that make up the spine. When these bones are unstable, or not aligned — due to contusion or some other injury — they may pinch the surrounding nerves, causing severe pain.
With spinal stabilization surgery, surgeons provide support and scaffolding for the bone to fuse back into place over time, in hopes that it will correct unwanted movement between vertebrae and the pain that comes with it, along with restoring stability in the long term.
Of course, Shazier is still in recovery, and only he and his attending physicians know what surgery he received and his real condition — and even that is up to time.
Here's hoping that, despite the odds, they'll share some better news soon.
This article has been updated.