General Electric Cuts 12,000 Jobs, Says It's Because of Renewable Energy
The company says it's because of less demand for fossil fuels.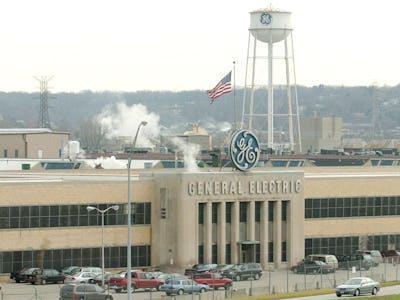 Getty Images / Mike Simons
The push to replace fossil fuels with cleaner and renewable sources of energy is undoubtedly an important cause for the future of our planet. But with both economic forces and environmental concerns pushing energy consumption moving away from coal or petroleum for the good of the environment, it's easy to lose sight of the people that will eventually lose their jobs.
Today, General Electric announced it will cut fossil fuel-related 12,000 jobs in its power business. It's a move driven more by the economic demand for renewables and GE's concerns about its own bottom line, rather than any particular environmental consciousness. This will upend the lives of thousands of families and is likely to not be the last restructuring the company will undergo as the nonrenewable energy sector continues to shrink.
"This decision was painful but necessary for GE Power to respond to the disruption in the power market, which is driving significantly lower volumes in products and services," said Russell Stokes, president and CEO of GE Power, in a statement. "Power will remain a work in progress in 2018. We expect market challenges to continue, but this plan will position us for 2019 and beyond."
This is the first step in the corporation's stated effort to reduce business costs by $3.5 billion in 2017 and in 2018. This initial cut will affect GE staff around the world, with employees in Germany and Switzerland being hit the worst.
The use of fossil fuel has seen a sharp drop globally and with more efforts to begin utilizing clean energy, the nonrenewables job market will likely continue to shrink.
GE's German competitor, Siemens, also slashed 6,900 jobs a month ago as it pivots to producing more clean energy.
Restructuring of these energy companies is just getting started. As the demand for clean energy continues to grow, the only way for these entities to stay afloat will be to switch over. These sweeping changes will undoubtedly affect thousands of more workers in the fossil fuel industry.
But this also opens up opportunities in the renewable energy industry. The 2017 U.S. Energy and Employment Report states that 300,000 jobs were added last year to the 6.4 million already available in the clean energy sector.
This leaves ample room for those who have lost their fossil fuel jobs to search for employment in the renewable sector. But that doesn't appear to be a task GE is setting for itself, as they simply cut the jobs instead of looking into retraining for its energy employees.