How the Internet Celebrated Australia Legalizing Same-Sex Marriage
The momentous occasion was witnessed across the world.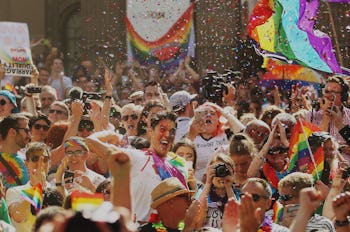 Getty Images
Marriage equality is now law in Australia. Just before 6 p.m. local time on Thursday, the bill to change the Marriage Act passed the House of Representatives with a landslide majority and just four members voting against. Supporters burst into celebration as the result came through.
"Watching this pass live was magical," said Reddit user M_as-in_Mancy191. "This was my generation's moon landing to watch live. I'm ugly crying and I don't care."
The vote comes 13 years after the government changed the Marriage Act to specifically outlaw same-sex marriages. Since then, three bills went through parliament that would have overturned the ban, but none of them succeeded. Change came after the center-right Liberal party decided to hold a non-binding national survey on whether to overturn the law. The result, which was announced last month, saw 62 percent of Australians express their support for the move in a turnout of around 79.5 percent of eligible voters.
The bill is now expected to receive royal assent. After that point, gay couples will be free to register for a ceremony and then get married 30 days later, the same procedure as heterosexual couples.
Australia is the 26th country to legalize same-sex marriage. Following a court ruling on Wednesday, Austria could become the next.
"Spoilers in the title!" said Reddit user Vileoss. "I haven't gotten to that episode of obvious civil rights yet."
After the final vote was counted, the public gallery in the House of Representatives burst into a chorus of "I Am Australian," a popular 1987 song by The Seekers:
In Federation Square in Melbourne, people gathered to watch the result on a large TV screen:
Emotions ran high as the historic decision was announced:
Some even celebrated with face paints:
Alice Bennett and her partner Miranda Hill kissed as the result came through:
Across the world, others expressed their support:
During the debate itself, around 100 members of parliament spoke, including Liberal member Tim Wilson, who then proposed to his partner Ryan Bolger, captured in this emotional clip:
Matt King, who played Super Hans in the TV show Peep Show, also expressed his support:
There were some bizarre reactions from the other side of the debate. Bob Katter, a member of parliament that voted against the bill and the leader of "Katter's Australian Party," gave an odd interview to ABC in the aftermath of the postal survey, in a video clip that went viral again in the wake of the bill passing:
"Now we can focus on the important things like those bloody crocodiles!" said Reddit user Deeeayegeeayeen.