The List Of Countries With Legalized Same-Sex Marriage is About to Expand
Same-sex marriage is currently legal in 24 countries.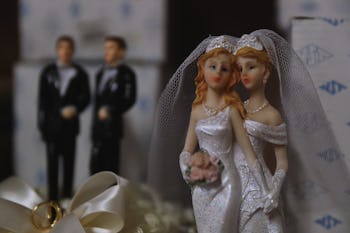 Getty Images / Justin Sullivan
Austria is set to become the 16th European country, and 25th overall, where same-sex marriage is legal. A landmark ruling from the country's Constitutional Court on Tuesday decided that existing laws violate anti-discrimination provisions, paving the way for the first ceremonies to take place in 2019.
"Today, the differentiation between marriage and legally registered partnerships can no longer be upheld without discriminating against same-sex couples," the court said in comments reported by the New York Times. "For the separation into two legal institutions implies that homosexual individuals are not equal to heterosexuals."
Austria has permitted civil partnerships between same-sex couples since 2010, which grants a number of rights including adoption. The court argued that having to disclose whether a person is in a marriage or a civil partnership meant also disclosing a person's sexual orientation, even in situations where the information was irrelevant, leading to discrimination.
Alongside marriage equality, Austria's ruling also allows for opposite-sex civil partnerships. The ruling is set to come into effect on December 31, 2018, unless the parliament chooses to enact it sooner.
The news comes less than a month after Australia's government survey on whether to legalize same-sex marriage showed 62 percent in favor of the proposal. The House of Representatives is currently debating a bill to amend the definition of marriage, but it has yet to pass.
Below is the full list of countries that have passed nationwide marriage equality:
Argentina (2010)
Belgium (2003)
Brazil (2013)
Canada (2005)
Colombia (2016)
Denmark (2012)
England and Wales (2013)
Finland (2015)
France (2013)
Germany (2017)
Iceland (2010)
Ireland (2015)
Luxembourg (2014)
Malta (2017)
The Netherlands (2000)
New Zealand (2013)
Norway (2008)
Portugal (2010)
Scotland (2014)
South Africa (2006)
Spain (2005)
Sweden (2009)
United States (2015)
Uruguay (2013)
Note: Mexico allows same-sex marriage but only in some states. Northern Ireland is the last remaining constituent country of the United Kingdom where same-sex marriage remains illegal.