This Story About Mark Hamill Will Break Your Heart, Proves He's the Best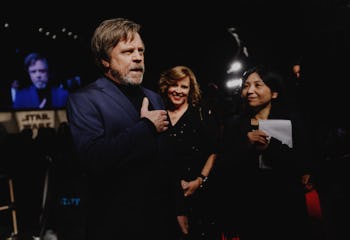 Getty Images / Christopher Jue
Mark Hamill is the hero we need but do not deserve. Star Wars fans young and old will tell you the same, especially after hearing the latest viral, heart-warming story about Hamill.
On Monday, writer Ed Solomon (Men in Black) took to Twitter to share a story of Hamill's real-life heroics. No, Hamill didn't reveal himself as a real Jedi Knight or the true Chosen One, but he did grant a sick little boy's dying wish.
Solomon's four-part Twitter thread detailed the story, saying that his friend's son, John, who was dying of juvenile Batten's Disease — as detailed by The Hollywood Reporter — wanted nothing more than to meet Luke Skywalker before he died. No, he didn't want to meet Hamill — he wanted to meet Luke Skywalker, the hero of the Resistance; Solomon explained that the boy's condition had deteriorated so much that the boy was unable to discern between fantasy and reality and that John watched Star Wars "every day."
John's parents, Joe and Lori Sikorra, asked Solomon, the only person they knew in show business, if he'd be able to grant John's wish. While Solomon doubted he'd be able to get through to such a high profile celebrity, he reached out to Hamill's agent, who "begrudgingly" said he'd ask if Hamill would be interested.
"90 seconds later I got a call from [Hamill], who immediately said yes and gave me his home address," Solomon wrote. "He not only met with the boy, but spent hours answering question after question (sometimes the same ones repeatedly), AS 'Luke.' Even posting this now makes me teary. He was compassionate, kind, and patient. And it literally meant the world to this kid and his family."
This story, which went viral on Twitter and broke so many hearts, has been deemed a heartwarming tale in a dark world. Star Wars fans have always known Hamill leans toward the Light side of the Force, and this is only further proof.
Read Solomon's four-part thread here:
Hamill will reprise his role as Luke Skywalker in the upcoming Star Wars: The Last Jedi, which premieres in theaters on December 15. Check out all of Inverse's coverage on the film right here.