John McCain Gets Trolled on Twitter for Asking for New Followers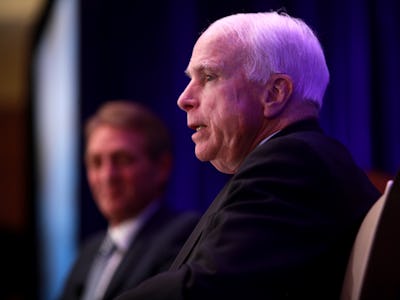 Flickr / Gage Skidmore
On Monday, Arizona Senator John McCain's news-making Twitter account went out on a limb requesting a few more followers to get it to 3 million. It didn't exactly go as planned.
"We're only 74 Twitter followers away from 3M - spread the word & help us reach this big milestone!" a staffer likely wrote, unless John McCain has started speaking in first person plural.
Hot on the heels of adding his vote to the GOP's highly contentious tax reform bill — which will disproportionately benefit the wealthy over the poor — the plea seemed poorly timed, at best. And Twitter did not take long to hurl its own special vitriol.
"Thanks for reminding me to unfollow you for that cruel vote," replied Twitter user @susiamcdonnell.
"This is what you care about after you voted for a tax scam that will take healthcare away from 13 million people? What the hell is wrong with you?" responded @bluedgal.
"It appears hundreds have just unfollowed you, bc of your vote on the tax bill. Well, hundreds + 1 now," said @DoggyKittyRescu.
Some users were chose to be a bit more blunt:
Since the post went up, McCain's account has been steadily losing followers all afternoon. You can actually watch it in real time here. At time of writing, he had lost over ten thousand followers.