A Food Bank is Mapping Hunger and It's Taking Them to the Suburbs 
Big data has completely changed how one Washington D.C. food bank is fighting poverty.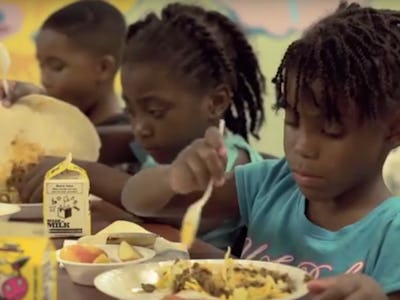 YouTube
There's a new map in D.C.'s Capital Area Food Bank, and it's revolutionized the way workers are fighting hunger in the nation's capital. They might not be going where you'd expect.
Using data pulled from the census, national nonprofits, internal records, and its 500 area partners, the food bank has created a heat map of area hunger. As analyst Michael Hollister told the Washington Post, there's a lot of red spots flaring in suburbia.
There's still a perception of the suburbs as if not affluent then solidly middle class, still floating on the tide of late 20th century white flight. But that's been outdated a long time. Rising urban rents pushed poorer residents out and they had to live somewhere. Then manufacturing jobs that had girded the suburbs withered, the ones that came along to replace them were either crushingly low wage or required a high skill set workers living there didn't have.
Hunger in America has been trending this way since the start of the century, though workers at places like the food bank often haven't had access to big data experts or programming experts. But adopting Hollister's methods, that could change soon, letting workers pinpoint exactly where food is really needed (one rash across the map in Reston represents a deficit of at least 150,000 pounds of food), figure out the reasons, and adjust their strategies accordingly.