Against All Odds, Netflix Has Renewed 'Stranger Things' for a Third Season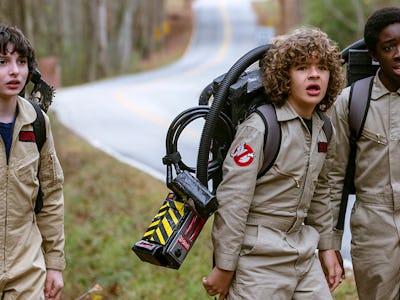 Netflix
Folks, you're not going to believe this, but Netflix has officially renewed one of its most popular and talked-about shows for a third season. That's right, Stranger Things 3 is going to happen. In such an uncertain time, it's a relief to finally be able to breathe easy.
The Hollywood Reporter ran a story about the renewal on Friday morning, just as the Netflix U.S. and Stranger Things Twitter accounts flirted via tweet.
"Should we make another season of Stranger Things?" Netflix asked in a tweet, prompting the Stranger Things account to tweet back an understated "Oh."
"FOR THE LOVE OF STEVE, DUH! So hold tight baby darts — Season 3 is officially happening," Netflix announced shortly afterward.
Season 2 of Stranger Things ended on a cliffhanger of sorts, and it's a big enough show that the streaming service paid for both an expensive Super Bowl commercial and the rights to a Michael Jackson song in order to tease the sophomore season. So, like, no duh they were going to renew the show. Friday's announcement just made it official.
The pair behind Stranger Things, Ross and Matt Duffer, have previously talked openly about their plans for at least four seasons of Stranger Things and very possibly a fifth season. Mathematicians will no doubt note that a third season would have to come before a fourth or fifth season, so the new announcement makes sense.
As for what to expect, plot-wise, from Season 3? We don't know. The Duffer brothers have indicated that there will be at least some sort of time jump, but it's unclear if Eleven and the gang are going to be '90s kids or if we'll still be in 1980s Hawkins, Indiana. The Duffers have also suggested that Kali, Eleven's older "sister" and star of the most controversial episode of Season 2, will likely come back.
Crucially, Friday's renewal announcement did not include a premiere date for Season 3. That, really, would've been the only surprising thing Netflix could've offered at this point.