'Stranger Things 3' Might Bring Back Seasons 2's Most Controversial Newbie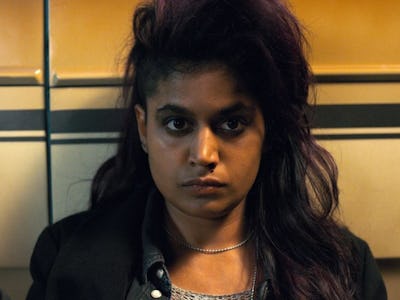 Netflix
No matter your feelings on Episode 7 of Stranger Things Season 2, you have to admit that Kali, Eleven's older "sister," was an interesting character. Kali drove Eleven to a new understanding of her powers in Season 2 that allowed Eleven to shove the Upside Down back into its place (for now). And though the sisters parted on not-so-great terms, Kali's story isn't over yet.
Stranger Things co-creators Matt and Ross Duffer spoke at the Vulture Festival in Los Angeles on Saturday about the future of Netflix's Stranger Things. One of the big topics of the talk was Episode 7, "The Sister," and whether or not Kali (Linnea Berthelsen) would make a triumphant return.
"It feels weird to me that we wouldn't solve [Kali's] storyline, I would say chances are very high she comes back," Matt Duffer reportedly said, so fans of the complicated Kali can rejoice. The many fans who grumbled about Episode 7, though, might have some strong concerns.
Eleven seems more than determined to stick around Hawkins, so Kali's potential — and most likely inevitable — return might come in the form of her (and her gang of misfits) rolling into town. Given the gang's habit of taking justice into their own hands and exacting revenge on those involved in Eleven and Kali's captivity and subsequent torture, Hawkins might turn into a bit of a war zone in Season 3.
Eleven is powerful and will probably grow more so before Season 3, but Kali's powers to manipulate a person's mind shouldn't go unchecked. After everything Hawkins and our heroes have been through, the last thing they need is someone playing with their heads.
While the nostalgia-soaked series hasn't yet been confirmed by Netflix for Season 3, there's very little question as to whether or not it will eventually be confirmed; Netflix already announced that it planned on carrying Stranger Things across five seasons.
Stranger Things 3 does not yet have a premiere date.