Where 10,000 Steps in Brooklyn, New York Will Take You
Reach your daily step quota the Brooklyn way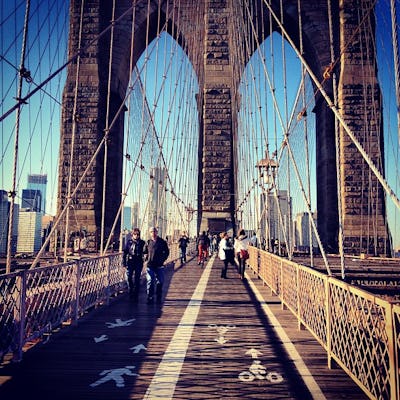 Flickr / Cidades para Pessoas
By now, we've all heard that we're supposed to take 10,000 steps a day. Even if the science behind that number isn't perfect, it's still better than say, 100 steps a day. Walking is a great way to get that 150 minutes of wweekly eekly exercise recommended by the CDC. It also happens to be a great way to learn about a city.
Whether you live in New York or are just visiting, walking in Brooklyn is one of the best ways to get around and range of landscapes to take in, from rusted rusted industrial to leafy leafy green to historic brown brown. The following 10,000-step tour takes any intrepid walkeany intrepid walker through several neighborhoods and offers plenty of opportunities to meander, should you choose to overachieve on that step count.
At 69.5 square miles and 2.6 million people, Brooklyn is very big borough, and to make the most of the five miles you'll need to use public transportation — a good chance to rest your feet!
I used the Health app pedometer on an iPhone to track my steps, so note that your count may be slightly higher or lower depending on your stride and your pedometer.
Ready, set, step!
Williamsburg
Steps 0-3,300
We begin in Williamsburg, the neighborhood that went from industrial to luxury. Today, the galleries, coffee shops, bars, and boutiques that that made Brooklyn synonymous with hipsters primarily in this area primarily in this area. Since fuel is critical for 10,000 steps, make your point of departure The Original Bagel Store on Bedford Avenue. You can go with a classic egg and cheese on an everything or, for a more ridiculous experience, try a rainbow-colored "Spectrum" bagel. A few years ago, this novelty treat had people lining up around the block, but the crowds have since moved on to the next food fad (avocado ice cream). You should be able to carb up without much of a wait.
It's a short walk to the former Domino Sugar Refinery, which, when it opened in 1856, was capable of producing 300,000 pounds of sugar a day. The factory ceased sugar production in 2004 and will soon be turned into offices.
Continuing on Kent Avenue, you'll see the old factories-turned-luxury apartment buildings (gentrification!). If you're walking on Kent Avenue on Saturdays between April and October, you'll see crowds for Smorgasburg open-air food market. Let yourself be tempted by the delicious smells for bonus steps, or continue onto Rough Trade, the American outpost of the iconic UK indie record store. Browse for some vinyl — a proper Brooklyn activity.
From Rough Trade, walk two blocks north to Brooklyn Brewery. Take a tour or pop in for a taste before returning to Bedford Avenue. Get on the L train headed for Rockaway — not Manhattan — because you're about to go deeper into Brooklyn.
Bushwick
Steps 3,300-5,670
Hop off the L at Jefferson Street and you'll be in the heart of Bushwick, once home to a collective of artists and light industry. It was full of factories, warehouses, and breweries whose buildings still stand along side single family homes — though now they're full of vintage clothing shops, art studios, and performance spaces. The mixture of cultures, including the large Hispanic population that has called the neighborhood home since the later 20th-century, is one of the best parts of Brooklyn.
As you make your way Troutman Street from the Jefferson L stop, check out the incredible street art the lines these blocks. It's all thanks to the Bushwick Collective, an open-air gallery of graffiti and murals founded by Bushwick native Joseph Ficalora. The art has become so well-known, I passed a tour group from France viewing the walls as I walked down Troutman. French tourists in Bushwick, Brooklyn would have been unheard of last century; now it's downright common.
Make your way to the large Frida Khalo mural outside one of the best Mexican restaurants in the area, Los Hermanos on Starr Street. It's actually part of a tortilla factory, so you know you're getting fresh stuff. Rest your feet or grab some tacos to go as we continue down Starr.
At the corner of Starr Street and Knickerbocker Avenue, you'll see the entrance to Maria Hernandez Park. As you follow the road that cuts diagonally through the park, take a minute to pay respect to its namesake. Maria Hernandez was an activist in the war on drugs in the neighborhood in the '80s, organizing meetings to unite community members. She was shot and killed in her home in 1989, and the park was renamed in her honor shortly after. Take some time to walk around the paths or catch a basketball game on the court
Head to Hart Street, where you'll notice a storefront tucked in amongst residential buildings, most likely with carts of books out front. You're at Molasses Books, which has been open since 2012, and in addition to an incredible selection of used books, there's coffee served from lovely handmade ceramic mugs, beer and wine if you're looking for something more potent, and cozy window nooks for curling up with a book. It's an easy atmosphere to get absorbed into, so feel free to grab a drink and stay awhile.
When you've had your fill, exit the shop to the left and continue down Hart. At the corner of Wilson Ave, make a left and then another left onto DeKalb, where you'll see the stop for the B38 bus right at the corner. Get your MetroCard ready because we're headed crosstown to Brooklyn Heights and Dumbo!
Brooklyn Heights & Dumbo
Steps 5,670-9,990
The bus is an awesome way to take in the sights of a city, so grab a window seat on the B83 as we cruise down DeKalb Avenue to Brooklyn Borough Hall. Hop off at the Joralemon/Court Street stop, which lets you off just just behind the courthouse on Joralemon. As you exit, to Clinton Street. By now, you've probably noticed some beautiful, big old buildings like the gothic-style Packer Collegiate Institute on Joralemon (built in 1865 as an all girl's school) and the former First Presbyterian Church (built in 1850-3) on the corner of Remsen and Clinton — which in true Brooklyn fashion has been turned into a condo.
Brooklyn Heights is one of the oldest neighborhoods in the city, having flourished with the invention of Fulton's steamboat and regular steam ferry service in 1814 (it was called the first "commuter-suburb"). It's fitting then that on the corner of Clinton and Pierrepont Street, you'll find the Brooklyn Historical Society. If you're up for it, check out the library on the second floor which has a beautiful reading room framed by stained glass windows.
Continue down Pierrepoint past the exquisite rows of classic brownstones until you see the lights of lower Manhattan shining ahead. You've now reached the Brooklyn Heights Promenade (of Moonstruck and Annie Hall movie fame), which offers gorgeous views of the Manhattan skyline, the Statue of Liberty, and the boat traffic zooming about the East River.
Head north on the promenade (towards the bridges) until you come to the end, and you'll find a ramp leading up to the street. Look for the signs for Squibb Park, walk down a ramp and enter the park, then walk straight ahead towards signs for the pedestrian bridge. The wooden bridge (which just reopened this year after having to be shut down due to safety issues in 2014) mimics those usually found in state parks, but hangs over Furman Street rather than a gorge or stream. At the end of the bridge, you'll be in Brooklyn Bridge park. There's plenty of paths to explore, or you can just head further north towards the base of the bridge.
Once you've made it here, look for an old lighthouse. Built in 1922 as a fireboat station, the lighthouse is now home to the Brooklyn Ice Cream Factory. Grab a scoop and then look for Water Street straight ahead of you. Walk beneath the Brooklyn Bridge until you come to Old Dock Street and you'll come to a glorious vintage carousel enclosed in a glass pavilion. Jane's Carousel is named for artist Jane Walentas who oversaw the restoration of the 48-horse ride, built in 1922 and originally stationed at a theme park in Youngstown, Illinois. It's $2 a ride, and it's incredibly worth it.
Jump out of your saddle, because we've got a little more walking to do to reach our 10,000 steps. By now, you should be close (unless you've strayed from the planned route and have already surpassed 10k, in which case you should go back and get another ice cream cone). Walk back up to Water Street, and head left to walk down under the Manhattan Bridge Overpass. We're now in Dumbo, which means–you guessed it–down under the Manhattan Bridge Overpass! When you get to Jay Street, head east (away from the water) until you see the entrance to the F train at York Street. If you're tired, you can end your day with a ride home. But if you're like me and have 10 steps left to go before reaching 10,000, you're going to want to take the F train two stops further into Brooklyn and finish the walk at a bar.
Cobble Hill
Steps 9,990-10,000 +
Take the F train to Bergen Street, and exit on the corner of Smith Street and Bergen. Smith Street has been referred to as Brooklyn's restaurant row, so if you're starving you can pretty much take as few as 10 steps to find a place to eat. If it's a cold beer in a bar that's well over 100 years old that you're seeking, then head east on Bergen and on the next corner, Hoyt Street, you'll find the Brooklyn Inn. Grab a seat at the bar, put your well-worn feet up, and toast yourself. Here's to 10,000 (and maybe more) steps in Brooklyn!