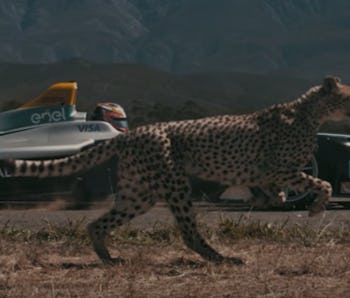 Innovation
Nature's Fastest Kitty vs. Super Fast Electric Car: Which Cheetah Will Win?
What happens when the world's fastest land animal — the cheetah — faces off against a fully electric race car? New video from Formula E has the somewhat surprising answer.
In anticipation of the FIA Formula E Championship this December — like Formula One, except the "E" stands for electric — the racing company hosted a drag race in South Africa between one of its ultra-fast creations and a cheetah. The event was held "to bring attention to the disastrous effects of climate change," according to Formula E. Conveniently, it's also a great way to show off how fast a Formula E car can zoom, as it can go from zero to 100 kilometers per hour — that's 62 miles per hour to we uncouth Americans — in about three seconds.
While cheetahs are living creatures that haven't been designed solely for the sake of sport, they can still reach speeds of roughly 60 miles per hour. Plus, they are cats, so in pretty much any contest, they win.
Except this one, apparently. Boo.
While the cat didn't come out on top this time, technically, a cheetah still won the race. The car's driver, Jean-Eric Vergne, is a member of Formula E's TECHEETAH team.
"Both the TECHEETAH Formula E Team and I want to be part of raising awareness for the wider impact that climate change has on our planet," Vergne said in a press release. "We do it mostly by showcasing and developing our electric cars across the world throughout the Formula E season, but we wanted to do more outside of the race track."
Though the car's performance is undeniably impressive, let's not forget who the real star of the show is, as summarized by this YouTube comment:
Extremely same.