Supergirl and Green Arrow Kissed in the Crossover and Twitter Hated It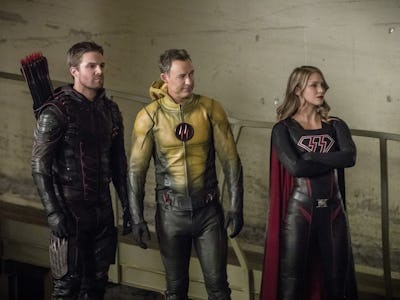 The CW
It's that time of year again when all the DC superheroes on The CW team up to throw down. This time, in "Crisis on Earth-X," the villains are Nazis from the Third Reich-dominated Earth-X, who have their own doppelgängers of our superheroes like Green Arrow and Supergirl. In fact, "Dark Arrow" and "Overgirl" are a married couple from Earth-X, and that reveal that shook and disgusted fans on Twitter.
Minor spoilers for "Crisis on Earth-X" ahead.
In "Crisis on Earth-X" Part 2, the Arrow portion of the four-part crossover, Dark Arrow (Stephen Amell) and Overgirl (Melissa Benoist) kiss as a married couple shortly after making their presence known. It happens before the first commercial break, which afforded fans two minutes and thirty seconds to shout about it on social media. Some loved it. Most hated it. No matter the opinion, there's an actual crisis, and it's not on Earth-X but on Twitter.
There's an overarching theme of weddings and romantic unions all throughout "Crisis on Earth-X." The center of the crossover is Barry Allen (Grant Gustin) and Iris West (Candice Patton) finally getting married, but they're not the only ones dealing with the impact of holy matrimony: Kara is getting over Mon-El being married to someone else, Oliver Queen royally messed up his own proposal, and Alex Danvers (Chyler Leigh) is rebounding after her failed engagement to Maggie. There's even a "divorce" between Professor Stein (Victor Gaber) and Jax (Franz Drameh), as the future of Firestorm remains in doubt.
Like true villains, the antagonists of "Crisis on Earth-X" are throwing marriages in our heroes' faces by having Earth-X Oliver and Kara paired up as a literal killer power couple.
As "Part 2" aired on The CW, fans were already reacting to Oliver and Kara's kiss on Twitter when Stephen Amell (@StephenAmell) himself stoked the flames by tweeting a screenshot of the smooch (between Nazis, we should remind you). "#CrisisOnEarthX has gone full fucking crazy," he tweeted with the photo. It's not hard to see from there just how divisive the kiss was.
First, disbelief.
Then, disgust.
One fan called it "the most awkward kiss in tv history," which to be quite honest is not off the mark.
Of course, there were GIFs.
On the flip side, some fans were kind of into it.
Others didn't think it was a big deal.
There were also some fans who just roasted Amell for having "no chemistry" with co-star Melissa Benoist.
"I honestly think you would've had more chemistry kissing cardboard." Damn, guys.
Some fans graciously provided palatette cleansers, if that's your thing too.
Arrow normally airs on Thursdays at 9 p.m. Eastern on The CW. "Crisis on Earth-X" Parts 3 and 4 air on Tuesday, beginning at 8 p.m. Eastern.