'Justice League' Actor Shares First Picture of Deathstroke in the DCEU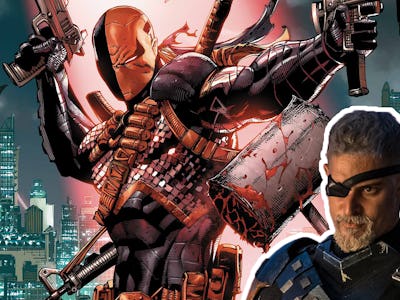 DC/Warner Bros.
The big villain in Justice League, Steppenwolf, was an especially bland and forgettable bad guy, but at least the movie ended with a post-credits scene that brought back an established baddie and introduced an imposing new foe. Everyone knows what Lex Luthor looks like, but the scene marked the first big screen appearance of Joe Manganiello as the assassin Deathstroke. On Saturday, Manganiello shared the first official, high-quality photo of the DCEU's Deathstroke.
And, in case you didn't fully take him in during the post-credits scene, the movie version of Deathstroke looks pretty dang good.
Deathstroke, a.k.a the enhanced mercenary Slade Wilson, first appeared in 1980's New Teen Titans #2, sporting his instantly classic orange and black outfit and helmet. The movie version is very comics-accurate, and really resembles the character's heavily armored appearance in more recent DC comics. It's a testament to the costume design that the DCEU's Deathstroke has bandoliers with lots of superfluous pockets and pouches — an comic book cliche — and it looks natural. bandoliers
Generally, people seem to like the costume. Actor Manu Bennett, who plays Deathstroke on Arrow, approved in a post last week. Deathstroke's creator, the legendary comic book writer Marv Wolfman, posted the photo on facebook, giving the costume and Manganiello's portrayal ringing endorsements.
"Over a week has passed so I think I can safely post this," he wrote in the post. "If you haven't yet seen Justice League, make sure you do. And stay to the very, very end. Photo courtesy of Joe Manganiello who looks like he stepped right out of the pages of New Teen Titans. Does he look perfect or what? Cannot wait to see where he appears next.
It's unclear exactly where Deathstroke will appear next. Justice League's underperformance at the box office might change some of the Warner Bros.'s plans for the DCEU, but there had been talk of the character appearing as the villain in the solo Batman movie and in a standalone movie of his own from The Raid director Gareth Evans. And, of course, the Justice League post-credits scene sets him up to be a founding member of the Injustice League.
When any of that might happen is unknown.
Justice League is now in theaters.