OK Go is Back With Printer-Packed Music Video 'Obsession'
The internet sensation has done it again.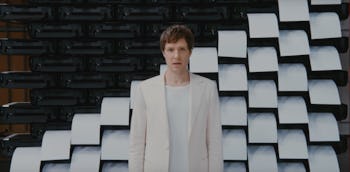 OK Go/YouTube
OK Go is back. The band that became an internet sensation with its ambitious music videos released "Obsession" on Thursday, which features a staggering 567 printers, a performance from the four-piece band, and a whole lot of paper.
The band's videos shot to fame in the early days of YouTube, when 2006 "Here It Goes Again" captured the internet's imagination with a carefully-choreographed display of treadmill trickery. The band has taken on a number of challenges since, putting their video "This Too Shall Pass" on DNA in conjunction with Microsoft and researchers. In "The One Moment," the group shot a whole video in the space of 4.2 seconds, while in "Upside Down and Inside Out" they switched off gravity to have some fun with perceptions.
"Obsession," a song from the 2014 album "Hungry Ghosts," sees the band standing in front of a wall of printers, churning out increasingly-elaborate artwork that falls to the floor throughout the three minute 43 seconds video. What starts off as a sea of white pages transforms into various shades of color, painting a scene as the band is suspended by pulley systems around the ever-increasing reams of pages.
The video has already captured the world of social media, with fans sharing their wonder at how the band has managed to pull off another earth-shattering feat: getting a printer to actually work.
"The amount of trouble I have with 1 printer makes this even more impressive," said Reddit user GoingSuperNova.
Thankfully, those conscious about the environmental impact of the video can be rest assured. The band claims that all the paper has already been recycled, and the proceeds donated to Greenpeace.
The end of the video features a special thanks to Maiton Island in Thailand, which featured in the video production.
Watch the video below: