Top Black Friday 2017 Samsung Galaxy Deals at Walmart, Target, and More
These bargains are out of this world.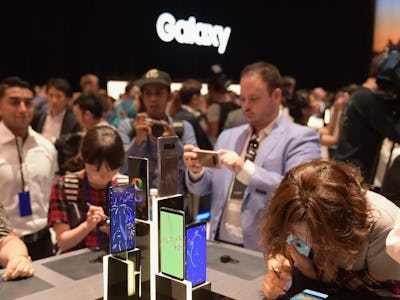 Getty Images / Jason Kempin
Finding the best deal on a Samsung Galaxy phone this Black Friday is as easy as a piece of your grandmother's pumpkin pie. At least when you have our handy Black Friday shopping guide at your service. We've scoured the internet to find the best Black Friday Samsung deals, and whether you're looking for a bargain at Target, Walmart, or Best Buy, or you want to go the more traditional route at Sprint, Verizon Wireless, or T-Mobile, we've got a money-saver for you.
If you're looking for the best deals on iPhones, we've got that situation covered, too. Happy shopping!
Best Phone at Face Value
Best Buy has some great Samsung Galaxy deals starting Thanksgiving Thursday, but it's important to read the fine print to see how deals vary by carrier. With a Sprint 24-month billing plan, you can get around $350 off the Galaxy 8 (now $400), Galaxy 8+ (now $500), and Galaxy Note8 (now $610). With a Verizon monthly payment plan, you can get $300 off the Galaxy 8 (now $420), Galaxy 8+ (now $516), and Galaxy Note8 (now $636). Best Buy opens Thursday at 5 p.m.
Sprint is promoting its Sprint Flex payment plan, and offering 50 percent off Galaxy 8, Galaxy 8+ and Galaxy Note8 devices with it. Sprint Flex is designed as an 18-month lease where you pay half-off payment plans each month. You can choose after a year to upgrade to a newer version and start a new lease plan, or buy your phone at the end of the 18 months by paying the remaining of the phone's full price. These sales are already available on Sprint's website.
Best Phone Bundled with Other Items
Walmart offers a $300 store gift card with the purchase of a Galaxy S8, Galaxy S8+, or Galaxy Note8 with an AT&T or Verizon payment plan. This deal starts in stores Thursday at 6 p.m. You will also have to make an appointment to activate your phone in the store.
Target is offering a $300 store gift card with the purchase of a Galaxy S8, Galaxy S8+, or Galaxy Note8 with an AT&T, Verizon or Sprint plan. This deal is only valid at stores with Target Tech, so make sure to check if your location has this. The deal is available starting when doors open midnight Friday.
T-Mobile has a BOGO offer with the purchase of an Galaxy S8, Galaxy S8+, or Galaxy Note 8. The second phone is free through a rebate, so you do have to actually purchase two phones, then submit for a rebate in the form of a prepaid MasterCard that comes six to eight weeks later in the mail. These deals are already available on T-Mobile's site.
AT&T's deal is a BOGO that's similar to T-Mobile's: buy one of the new Galaxy phones and get a free Galaxy S8, which is paid back to you over 30 months. So you still have to lay down money for both phones at first.
Verizon is offering 50 percent off the Galaxy S8, S8+ and Note 8, as well as the Google Pixel 2 and Pixel XL when you sign up for the carrier's Unlimited plan. However, you do pay the full price of the phone up front, and have to stick around for two years to get the full rebate for half the phone. This deal starts online Thursday and in stores on Friday.
Best Trade-In Phone Deal
Samsung is offering up to $300 off an unlocked Galaxy S8, Galaxy 8+ or Note8 if you trade in an eligible phone. Samsung will accept phones in good condition of these models: iPhone 5 and above, iPhone SE, Galaxy S5 and above, Note 5, LG G4 and above, and Google Pixel and Pixel XL. Since this deal is available online, consumers must trade in their old phone within 15 days of the purchase. This deal is available now on Samsung's site.
Don't forget to read the fine print though — these phone deals are dependent on your mobile carrier.
Please note these links have been autonomously chosen by our editorial team, and Inverse may receive a portion of the purchase.