6 Ways You Can Protest the FCC's Decision to Kill Net Neutrality
Organizers are campaigning against Ajit Pai.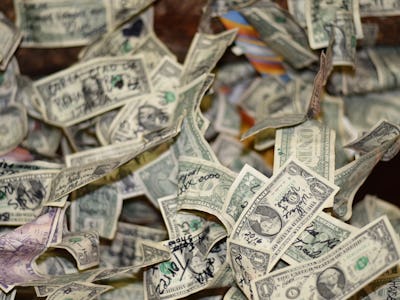 Unsplash / Olga DeLawrence
The Federal Communications Commission revealed plans on Tuesday to dismantle net neutrality, which would lead to internet speeds being controlled by few very corporations. Organizations are now planning a series of events to put pressure on Congress and Ajit Pai, chairman of the commission.
"The only interests Ajit Pai represents are those of the few gatekeeper media companies that want to charge people more for nothing and give them less of everything," said Candace Clement, Free Press Action Fund Campaign Director, this week.
The reversal of rules that treat the internet like a utility would help major internet providers shape access to their own financial advantage. They could slow certain sites down, push websites to pay extra for access to so-called "fast lanes," and spell doom smaller companies unable to pay the fees. Pai claims that Obama-era rules have hindered infrastructure spending.
Somewhat amusingly, if not for how sad it it is, the FCC seems to think that the number of people accessing streaming video and other content on the internet has remained frozen in time since 2015:
"We would much rather have the free-market 'light touch' approach that the Clinton administration adopted," Pai told Recode in May. "We're not saying the choice is either Title II or the Wild West, it's light-touch regulation, the middle ground, that we're looking to return to."
Also amusingly, Pai seems to think the same sort of regulation adopted during the Clinton years — when dial-up modems were king and America Online used 56k modems for "fast" internet speeds — would be OK to have some 20 years later. Get ready to go back to speeds like this for independent websites, basically.
Activists — and really anyone who's spent more than five minutes thinking about the effects of a tiered internet where not all web content is created equal — realizes this: When only a few big corporations, of which you can count on one hand, control which web content loads fast and which loads slowly, "light-touch regulation" doesn't protect any American, especially those who want to start the next reddit or Netflix or YouTube. Pai, it should be noted, was a lawyer for Verizon before going into government. Verizon released this strange video in May, touting the benefits of killing net neutrality.
Activist groups are now taking their fight to their representatives in Congress, who will vote on the commission's proposals on December 14.
Here's what's been planned ahead of the vote:
Verizon Store Protests on December 7
At Verizon stores nationwide on December 7, one week before the vote, activists will meet at 5 p.m. local time to put pressure on Congress and demand a change. Pai used to work on Verizon's legal team, so the choice of store is intended to "[shine] light on the corruption" and expose Pai's conflict of interest.
Events are planned across the country, including Indianapolis, New York and San Francisco, but other cities are welcome to organize their own and add it to the list. The site says the protests "will be quick, fun, and 100% legal."
Billboards in Congressional Districts
Activist group Fight for the Future is hosting a campaign to place billboards informing voters about their representatives' actions. The campaign will target members of Congress that voted in favor of President Donald Trump's proposed choice of Pai as head of the FCC. This includes the four Democrats Joe Manchin, Claire McCaskill, Gary Peters and Jon Tester. The campaign is around halfway toward its $100,000 funding goal.
Washington, D.C. Protest on December 13
On December 13, the day before the vote, a team of organizers called "Defend Net Neutrality" have planned a protest from 10 a.m. to 2 p.m., with a venue as-yet undecided.
Phone Call Drive Happening Now
Citizens can call their representative by using Battle For the Net's simple interface. Entering your phone number provides a script of what to say and connects you with your local politician. Over 250,000 calls have already been made.
ResistBot
Texting resist to the number 504-09, a bot will ask for your name and other info. It then sends a message to your senators, representatives, governor and the President. The team is collecting donations to fund the cost of sending out letters as part of the campaign.
Petition
A petition entitled "Replace Ajit Pai on FCC, Restore Net Neutrality, Make Last-mile Networking a Public Utility, and Stop Corporate Abuse" has been posted on the official White House website. At time of writing, the petition has 6,474 signatures, with 93,526 required to get a response from the government.
Another petition, entitled "Do Not Repeal Net Neutrality," has been posted and already acculumulated a staggering 143,229 signatures.