8 Technological Landmarks in Silicon Valley 
From a one-car garage to a 175-acre campus, some even offer tours.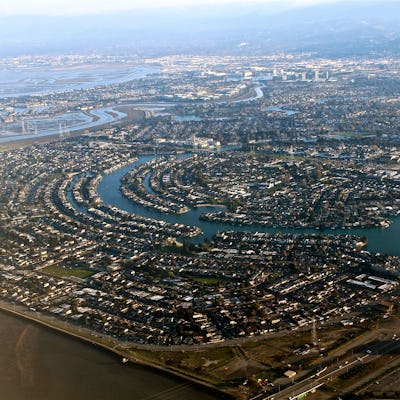 Flickr / Nouhailler
Named of the silicon computer chips developed in the region, Silicon Valley, has become the world's capital for technology development. it's location south of San Francisco is home to many of the world's largest technology companies and its proximity to Stanford University helped the region become the center of computer and engineering innovation since the late '60s. While the internet boom of the last 25 years has taken Silicon Valley to a new level of notoriety, the first publication of the term of "Silicon Valley" came in January 1971, showing the area's technology rep goes back to the earliest growth of computing.
Today, the campuses of a select few tech companies are accessible to the general public — sadly, many are off-limits. But for any vacationer or local interested in getting up close to the development of the next iPhone or Intel processor, there are public-facing tech points of interest to check out.
Several Bay Area-based agencies provide day-long guided tours of Silicon Valley, but many tech-loving tourists opt to charge up their Teslas and self-navigate their own adventure. If that sounds like you, be sure to plug these stops into your GPS for the ultimate innovation itinerary.
Embrace your inner nerd. Of course you want to see Apple's spaceship campus yourself. Here's how you do it.
Earlier this year, Apple began welcoming employees to its new $5 billion, solar-panel clad spaceship-like headquarters, designed by British architect firm Foster+Partners. While the majority of the new 75-acre Apple Park is off-limits, you can take a virtual tour of the campus at the newly opened Visitor's Center which according to Apple, is "a uniquely designed architectural extension of the new campus with similar aesthetics in staircases, stone walls and terrazzo floors." The Center, which is independent of the home button-esque headquarters, features a model that can be explored in augmented reality, allowing users to "lift" the roof off the building to explore its interiors. There are cafe and roof terraces from which to admire the stunning building and some of the 9,000 native and drought-resistant trees planted on the site.
And, of course, an Apple Store in the building where in addition to picking up a new device, you can also purchase Apple-branded apparel and gifts, including an old-fashioned deck of actual playing cards.
Address: 10600 N Tantau Ave, Cupertino, CA 95014
Housed in the original offices of co-founders Bill Hewlett and Dave Packard, the HP Customer Welcome Center offers an immersive display of HP's innovative products for home and office, as well as demos in 3D printing and VR and a replica office with memorabilia from the early days of the company.
If you want to go even further down memory lane, you can swing by the garage where Bill and Dave got their start. The garage was granted landmark status in 1989 but is not open to the public, so a picture from the sidewalk will have to suffice.
Address: Building 4, 1501 Page Mill Rd, Palo Alto, CA 94304
Tesla, Palo Alto
Though Tesla informed us that public tours are not currently given at their Palo Alto headquarters, that doesn't mean you can't test drive one of their vehicles at any retail location.
You'll need an appointment ahead of time, so make sure you book through their website. If you do end up buying a car, you have a chance to request a tour of their Fremont factory, so be sure to inquire when you hand over that 100 grand.
Headquarters Address (not open to the public): 3500 Deer Creek Road. Palo Alto, CA 94304
Tesla Store: 4180 El Camino Real Palo Alto, CA 94306
What began in a Menlo Park garage is now two-million square-foot campus complete with an organic vegetable garden, tennis courts, scores of "gbikes," and a bronze-cast replica of a t-rex skeleton. Google's headquarters, known as the "Googleplex," is known for its quirky, innovative landscape and incredible employee perks (massage rooms, swimming pools, three free meals a day, nap pods).
Sadly, most of this stuff has a strict look-don't-touch status. Do not attempt to ride the gbike! But you are free to roam around the grounds, including the Android statue lawn. Based off the dessert-named versions of the Android mobile operating system like Jellybean, Doughnut, and Ice Cream Sandwich, they make for a great photo-op regardless of which smartphone you're snapping with.
Address: 1600 Amphitheatre Pkwy, Mountain View, CA 94043
Putting the silicon in Silicon Valley since 1968, Intel is one of the oldest high-tech companies in the area. Perhaps that's why they've created their own museum right at company headquarters. Visitors are immersed in semiconductor and microchip history and can even try on a bunny suit–the mandatory full-body white suit worn to protect microprocessors from any contaminants.
Address: 2200 Mission College Blvd, Santa Clara, CA 95054
Shockley Semiconductor Lab - Mountain View
All that's left of the first high-tech company in Silicon Valley is a plaque on the sidewalk and a roadside sign. William Shockley opened Shockley Semiconductor Laboratories in Mountain View, CA in 1956 in a small commercial lot. Along with a team of young scientists and engineers, he worked on a transistor that used silicon rather than the traditional germanium as a semiconductor. But some of his young employees, now notoriously known as the "Traitorous Eight," broke off to start up a new venture called Fairchild Semiconductor. And then, two of those employees left to start up another new venture called Intel. The original Shockley Lab has been demolished, and the rest is start up history.
Address: 351 San Antonio Rd Mountain View, CA 94040
A 43,000 square-foot open plan office designed by Frank Gehry, a 9-acre roof garden with teepee swings and 400 trees, free electronics vending machines, an old school arcade, psychedelic murals, free froyo: Facebook's headquarters in Menlo Park are pretty cool. But unless you know someone on the inside who can show you around, the only thing you'll be able to "like" here is the thumbs up sign at the entrance of 1 Hacker Way. Considering the Zuck covers his laptop camera with tape, it's not surprising that this place is closed to the public.
Address: 1 Hacker Way, Menlo Park, CA 94025
With the largest collection of computer-related artifacts in the world, the Computer History Museum is definitely worth a visit while you're touring Silicon Valley.
There are 19 galleries with over 1,100 objects, and plenty of hands-on experiences: Take a seat in a Waymo self-driving car, learn to code, and check out a demo of the one-ton "microcomputer" from 1959, PDP-1, as it runs what may have been the first computer game–SpaceWar!
Address: 1401 N Shoreline Blvd, Mountain View, CA 94043