10 Underrated NYC Attractions for Nerds and Night Owls
A geek's guide to the Big Apple.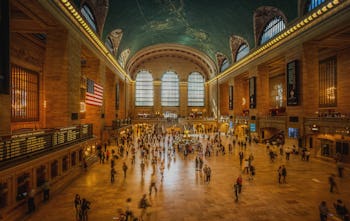 Flickr / jensfrickephotography
The great thing about New York City is that there's a little something for everyone, including you, fellow nerd. From history and science, to sci-fi and magic, we've rounded up ten places in Manhattan where you can go get your expand your mind between slices of pizza, feeling cramped in a crowded subway car, and experiencing strange smells that mysteriously come and go.
As America's biggest city, New York is a bustling, crowded, beautiful, surprisingly friendly and helpful metropolis that claims landmarks of science and science fiction, technology, and the geekier side of the arts. While they may be overshadowed by the grind of daily life and the lights of Time Square, these destinations are worth seeking out.
Ghostbusters HQ
Pique your paranormal activity with a visit to the iconic Ghostbusters headquarters. Hook and Ladder 8 is still a working FDNY firehouse, but once upon a time in the '80s it was the Ghostbusters' headquarters. You can still snap a pic with the Ghostbusters logo that's on the sidewalk out front.
Address: 14 N. Moore St, New York, NY 10013
Mini-Manhattan
Of all the incredible buildings located in Manhattan, the one housing the Skyscraper Museum is not one of them. But it's what's inside this bland downtown building that counts. Its permanent collection has models at 1:500 scale of some of the world's tallest buildings, including Burj Khalifa and Taipei 101, and incredible photographs documenting the construction of New York's most iconic towers.
You can also peer down, godlike, upon a mini-Manhattan made entirely of hand-carved wood.
The artist, Mike Chesko of Arizona, drove to New York with his family to hand deliver the models in 2007. It was the first time he'd seen the city, but you'd never know it from his woodwork.
Address: 39 Battery Pl, New York, NY 10280
Tannen's Magic Store
Unleash your inner Harry Potter at Tannen's Magic Store! The city's oldest magic shop, open since 1925, is now located on the sixth floor of an unremarkable midtown office building. Once inside, however, you'll be treated to antique magic books, wands, top hats, and drawers filled with tricks and trinkets related to the trade. There's also an amazing amount of magic memorabilia, including items from Houdini's archive, so you can study how the old masters used to work.Feel free to ask for a demonstration of any magic tricks before your purchase, because there's nothing worse than showing up to a party and pulling a Gob Bluth.
Address: 45 W 34th St #608, New York, NY 10001
Hall of the Universe
No geek's trip to the Big Apple would be complete without a stop at the American Museum of Natural History. And while the dinosaur skeletons and dioramas filled with taxidermy animals are awesome, the Hall of the Universe is out of this world (pun intended).
Check out the 15-ton Willamette meteor, watch time and space warp in the Black Hole theater, and see how much you would weigh on celestial bodies like the sun, the moon, Jupiter, and Mars with scales built into the floor. Plus, you can stock up on space ice cream at the Shop for Earth and Space.
Address: Central Park West & 79th St, New York, NY 10024
The Bloody Angle
History and math converge in Doyers Street in Chinatown — not only does the street have a nearly 90-degree bend in its middle, it was also the site of an incredible amount of gang violence starting in the early 1900s, earning it the nickname "The Bloody Angle."
In the early 20th century, rival gangs the Hip Sing Tong and the On Leong Tong were at war. In August 1905, the Hip Sing Tong ambushed members of the On Leong Tong at the Chinese Theater on Doyers Street, leaving three dead and setting off decades of violence.
A network of underground tunnels in the area allowed for quick getaways and the notorious bend in Doyers Street meant victims were often caught off guard. According to a 1994 New York Times article, "Law-enforcement officials say more people have died violently at Bloody Angle, the crook at Doyers Street near Pell, than at any other intersection in America." The violence has since subsided, but it's certainly worth checking out one of the only angled streets in Gotham. While you're there, grab a bite at Nom Wah Tea Parlour, which has been operating there since 1920 and was the first place to offer Dim Sum in NYC.
Address: 99-1 Doyers St New York, NY 10013
The Whispering Gallery
En route to the lower concourse in Grand Central Station just outside of the Grand Central Oyster Bar, you'll find the acoustic and architectural wonder of an archway known as the Whispering Gallery. Thanks to the parabolic curve of the ceiling, a person speaking into one corner of the archway can be heard loud and clear by a person standing in the opposite corner, about 40 meters away. Whispering is actually more effective, as the sibilant nature of a whisper carries better along the arch's spine.
The construction of the vaulted ceiling was overseen by the famed Gustavino Company, whose patented tile vaulting method revolutionized building design in the U.S. and can be found throughout New York City, including the City Hall Subway Station, Ellis Island, and St. Paul's Chapel at Columbia University.
Address: 89 E 42nd St, New York, NY 10017
The Glowing Owls
This one's a hoot. Wait until the sun goes down, then head over to Herald Square. There, perched atop the James Gordon Bennett memorial, you'll see a pair of glowing green owl eyes peering back at you. They belong to the two owl statues that adorn the monument and have been blinking on and off nightly since 1940.
Bennett was the founder and publisher of The New York Herald, and his son, who inherited the newspaper in the 1920s, was an owl enthusiast. He kept them as pets, had them embossed on his stationery, and even wanted to be buried inside a 200-foot tall owl shaped tomb. The owls on the memorial statue are from a set of 21 that originally sat atop the New York Herald building, their eyes flashing on the hour. Since a renovation in 2007, the incandescent bulbs that sat in the owl heads have been replaced with green LEDs, which thankfully only strengthened the creepy glow.
Address: 1 Herald Sq, New York, NY 10001
ITT Mosaic
He's got big balls… If this AC/DC hit immediately comes to mind when you look up and see this mosaic, you're not alone.
Located in the dome of an entrance to 75 Broad Street in lower Manhattan, this building was once the headquarters of the International Telephone and Telegraph (ITT) Corporation, built just before the Depression in 1929 when business was booming and industries sought to show their power through works of public art. During the 1940s, it became the headquarters for U.S. submarine operations in the Atlantic Ocean. Featuring a naked man with wings who is proudly showing off his two hemispheres, the mosaic's rich hues make for a great photo-op.
Address: 75 Broad St, New York, NY 10004
Museum of Comic and Cartoon Art
If you're a fan of comic books, then you need to visit the Museum of Comic and Cartoon Art at the Society of Illustrators in the Upper East Side. Their permanent collection boasts an incredible range of work from Marvel to MAD magazine and everything in between. And if you've been toying with starting your own comic or graphic novel, make sure to stop in on a Tuesday or Thursday evening for Sketch Night, complete with live models, live music, and snacks to feed your inner starving artist.
Address: 128 E 63rd St, New York, NY 10065
Lovecraft Bar
Cap off your geeky day with a drink at Lovecraft, a restaurant and bar dedicated to the life and works of science-fiction and horror writer H.P. Lovecraft.
There's a serious steampunk vibe and occult decor, and the menu includes a list of Absinthe cocktails and drinks like the "Cthulhu Mythos" — if you need to brush up on your Lovecraft, the Cthulhu is an octopus-dragon-human cosmic entity created by the author.
If you're feeling a little freaky after a few green fairies, you can head downstairs to their karaoke room and cast out your inner demons.
Address: 50 Avenue B, New York, NY 10009