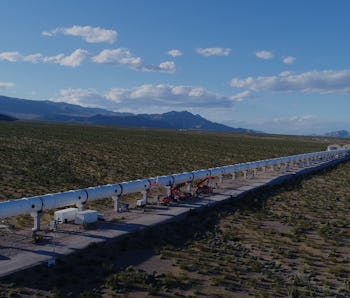 Innovation
Hyperloop One Makes Multiple Big Announcements on Where It's Headed Next
The future of transit could be in two big Asian countries.
Hyperloop One made not one, not two, but three announcements Thursday for where the company could be headed next in its quest to make Elon Musk's design for ultra-fast transportation a reality.
In a pair of statements, the Virgin-backed start-up revealed it had signed memorandums of understanding with the Indian states of Maharashtra and Karnataka to undertake feasibility studies for future hyperloop tracks. Later that day, the company also announced a similar agreement with the Misk Foundation, which represents the interests of Saudi Arabia's Crown Prince Mohammad bin Salman.
While these are all just preliminary agreements, the hyperloop's potential in these Asian countries is intriguing, especially in densely populated India. The agreement with Maharashtra is maybe the biggest of the three announced Thursday, as the state is home to 112 million people, about a third of the population of the entire United States. Its capital Mumbai is India's richest and most populous city, making it an intriguing hub for a hyperloop line.
Located directly south of Maharashtra, Karnataka has a population of "only" 61 million, which is about as many people as live in California and Texas combined. Bangalore, the state's capital, is India's third biggest city, and the state is also home to rapidly growing industrial cities like Tumakuru, Hubli-Dharwad, and Hosur.
The Saudi agreement is less explicitly focused on the details of a future hyperloop system and more in the jobs and education such developments could have for the country's youth population. The announcement came at the Misk Global Forum, a major part of the Crown Prince's concerted efforts to bring tech entrepreneurs and innovation to Saudi Arabia.
These are not the first such agreements Hyperloop One has reached with state or national governments. In 2016, the company signed memorandums of understanding with Russia and the United Arab Emirates, while in September it reached an agreement with the Indian state of Andhra Pradesh, which borders Karnataka and lies southeast of Maharashtra.
It remains early days for all these projects, with not even a completed feasibility study yet to judge how serious either Hyperloop One or the various governments are about making the transportation system a reality. But the announcements suggest the start-up is casting as wide a net as possible in its efforts to build the first operation hyperloop network, wherever it will end up being.
The Hyperloop One's successful speed test means it's closer than ever to reaching 700 mph. Check out this video to find out more.