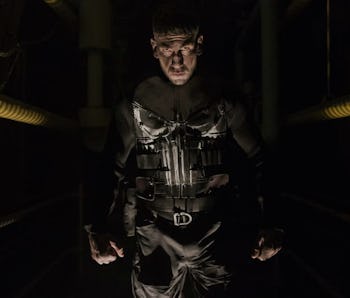 Entertainment
Tonight's the Night Marvel's 'The Punisher' Season 1 Finally Hits Netflix
Netflix
On Friday, the same day that the Justice League are going to team-up and save the world in theaters, Marvel's Punisher will be dishing out some violent, street-level justice in his new Netflix series. Here's what you need to know.
All 13 episodes of The Punisher will premiere on Netflix on Friday, November 17. Typically, the streaming service adds all its new content at 12 p.m. Pacific, so fans on the East Coast hoping to watch as soon as possible are gonna have to stay up until 3 a.m.
Originally, The Punisher was rumored to be headed for a surprise release, which would have been unprecedented for Netflix. Trailers for the show classified the exact premiere date, but it seemed like the series's panel at New York Comic Con in October would've been a likely premiere. That panel, and any secret premiere that may have been planned, was canceled following a mass shooting in Las Vegas. The new November premiere date was officially announced shortly afterward, and the co-executive producer of Marvel TV Jeph Loeb told Inverse that none of the content of the series had been changed.
What Is The Punisher About?
The Punisher, a.k.a. Frank Castle, is Marvel's premiere anti-hero. Originally created as a Spider-Man villain by Gerry Conway for 1974's The Amazing Spider-Man #129 the character soon grew to be one of Marvel's grittiest franchises. Traditionally, Frank Castle is a veteran who turned to a life of deadly vigilante justice after the mob gunned-down his family.
Netflix's version of the character is a little different. As played by The Walking Dead alum Jon Bernthal, the Punisher made his MCU debut in Daredevil Season 2, where he was started off as an antagonist to the Devil of Hell's Kitchen before eventually making an uneasy alliance. During this season, the Punisher also got to know one of Matt Murdock's acquaintances, journalist Karen Page (Deborah Ann Woll).. Karen Page is the only other existing character from any of Marvel's Netflix shows who is confirmed to appear in The Punisher.
Here is the official synopsis for The Punisher:
After exacting revenge on those responsible for the death of his wife and children, Frank Castle (Jon Bernthal) uncovers a conspiracy that runs far deeper than New York's criminal underworld. Now known throughout the city as The Punisher, he must discover the truth about injustices that affect more than his family alone.
Is The Punisher Good?
We certainly think so. Based off of the first six episodes Netflix made available to the press, Inverse called the show "The Best Marvel Series Yet" in our review. It's surprisingly subtle, socially aware, and explores some interesting themes. From our review:
Though superheroes are technically all vigilantes and should probably be arrested, the MCU has done a solid job establishing that great power does, in fact, come with great responsibility. But the Punisher is a splinter in that message. In this vast universe of viking gods and aliens, Frank Castle forces you to answer his question: If great power comes with great responsibility, then what am I?
Other outlets gave the show largely positives reviews, with many praising it as a "twisted" and hyper-violent thriller.
Check out the final trailer below, and watch The Punisher on Netflix on Friday if you're so inclined.