Elon Musk's Wish in This 1999 CNN Documentary Came True Today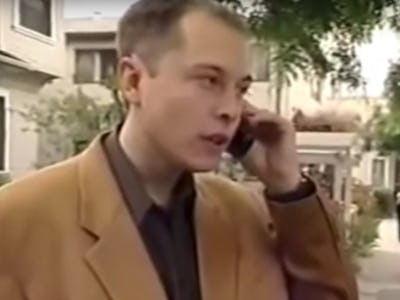 A 1999 news documentary segment on Elon Musk is weird for a few reasons. In it, he has a McLaren F1 delivered to him as the cameras are rolling and his first wife Justine is at his side. And Musk, who was in his late 20s at the time, had just sold Zip 2 — a content management system for newspapers — for $307 million. He was in the ascendency.
This picture of late-'90s Musk shows a tan-blazer-wearing, early Silicon Valley entrepreneur, brimming with geeky confidence; far from the somewhat careful executive who we see today showing off new Teslas or being interviewed by NASA officials about SpaceX.
There's an interesting line at the end of the segment that sticks with the viewer, that hints at Musk's ambitions. Would he be satisfied with being on the cover of Fortune or Forbes magazine? Not exactly.
"I'd like to be on the cover of Rolling Stone, that'd be cool"
"I'd like to be on the cover of Rolling Stone, that'd be cool," Musk says, then eliciting a laugh best described as a guffaw. It's weird. It was the '90s. It's the segment's closing line, but watch the whole thing because it's a curious little time capsule. The video was part of a CNN Perspectives episode, and when the clip made it online in 2015, Business Insider fully reported on the car, noting that Musk eventually wrecked it after using it as his daily driver for a few years.
On Thursday, Musk got his Rolling Stone wish, more than 18 years later.
The cover story by Neil Strauss calls Musk the "Architect of Tomorrow." If you've read Ashlee Vance's 2015 biography of Musk, this story serves as an interesting update.
"I try to do useful things," Musk tells Strauss in Rolling Stone. "That's a nice aspiration. And useful means it is of value to the rest of society. Are they useful things that work and make people's lives better, make the future seem better, and actually are better, too? I think we should try to make the future better."
If you liked this article, check out this video on how Elon Musk became so popular.