This Crab-Like Robot is First Ever Gaming Bot, and We Watched It Do Battle
No word on whether they'll turn on you mid-battle.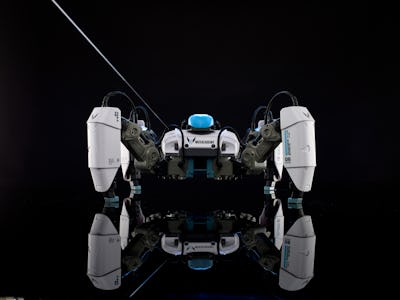 Reach Robotics
What began as a side project at a college robotics club is now a boxed gaming experience available worldwide.
After nearly four years in development, the Bristol, England-based Reach Robotics is finally having its moment in the spotlight. The Apple Store's bright lighting, that is.
"It will feel surreal to see them finally in stores after spending years building these robots from scratch," founder and CEO Silas Adekunle tells Inverse during a live demo of the company's crab-like critters, MekaMon. It's said to be the worlds first real-life gaming robot.
It hits the shelves of U.S. Apple stores, Apple's site, and the Reach Robotics website Wednesday.
During the live demo, Adekunle showed off the MekaMon robots' physical and sometimes emotional capabilities. Not only do the four-legged "creatures" sense and counter physical attacks, they even project sadness during defeat in battle.
"Players can whip out their iPhone to battle their multi-functional, connected battlebots in the physical and virtual worlds at the same time."
Adekunle, who moved to England from Nigeria at 11, never dreamed his robots would make it this far. Growing up as a child of immigrants, the idea of running a tech startup wasn't exactly his trajectory in life. The concept barely registered with his loved ones when it came time to raise the often glossed-over "friends and family angel" round of funding.
At $299.95, the fairly affordable kit goes beyond a gaming system, immersing the player by putting the four-legged robots into battle in both the physical and virtual worlds.
While the timing to hit the market was purely coincidental, MekaMon is here just in time to incorporate gaming into the iPhone X's augmented reality features.
"As the world's first premium gaming robot, MekaMon fits neatly into the emerging category of mobile augmented reality products," says Adekunle. "By fusing robotics, reality-bending technology and competitive play, we're offering players a new twist on hardware and video games – a premium robotics product that's easy to play but very difficult to master."
Adekunle led a 30-member team of engineers, game designers and robotics experts to bring MekaMon to life. Each robot weighs approximately 1 kilogram, has dimensions of 30 centimeters by 30 centimeters by 15 centimeters, and has a removable, rechargeable battery for at least one hour play-time.
The release marks "a new branch of gaming," the company says.
"We've created an entirely new video gaming platform," Adekunle says. MekaMon straddles the real and virtual worlds while taking the gaming experience beyond a player's screen and turning their physical room into a limitless robotic battle zone."
Perhaps the most impressive aspect of MekaMon is its full compatibility with Apple's Swift Playgrounds coding app, which allows users to control their robot with Apple's user-friendly Swift programming language.
The company's goal is to empower users to learn and apply fundamental coding concepts to control Mekamon's startup, shutdown and movement capabilities, custom reactionary animations and more. By allowing gamers to transcend the software's capabilities, the company hopes to keep MekaMon gamers involved in the robotics' depth for years to come.
"Most gaming hardware gets tedious after awhile," Adekunle says. "We wanted to build our robots to grow and adapt with users over time."
Here's the full rundown of the MekaMon Specs and Features:
iPhone Compatibility: uses phone's camera and infrared tracking system for precision game-play.
Bluetooth and Infrared Battle zones: MekaMon app connects the robots to each other via infrared signals and Bluetooth, allowing friends to battle against each other through old school arcade-style games.
Choose your World: Gamers choose whether to play in the real world or augmented reality and once battles starts, the robot is free to move and use any object in the room (like furniture) to block and/or hide from attackers.
Customizability: A MekaMon robot can be customized to suit a user's individual playing style, adding weapons or shields to create more aggressive, defensive and technical capabilities.