The Dudes Behind 'Epic Rap Battles of History' Eye an Uncertain Future
On a much-needed break, the guys behind YouTube's popular series take five.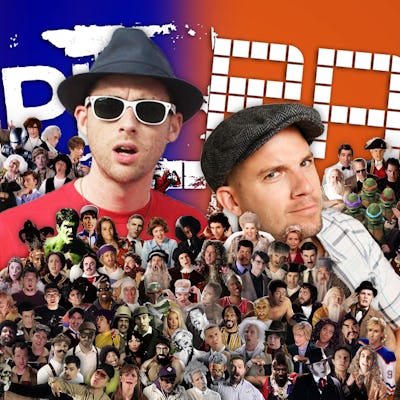 The internet was made for Epic Rap Battles of History. Created by four friends, the musical web series pits two or more figures from history — Theodore Roosevelt and Winston Churchill, Batman and Sherlock Holmes, Miley Cyrus and Joan of Arc — in a war of words where textbook footnotes and sophomoric humor are weaved over rhythmic, genre-defying beats.
With an audience of 14.2 million subscribers and over three billion views combined, Epic Rap Battles of History ("ERB") is one of the most popular YouTube shows of all time. It's also been eleven months, an eternity in internet years, since they last uploaded a video.
Left without a proper goodbye, fans have been confused regarding the state of ERB. "Is this channel still alive?" reads a comment on the Season 5 finale, the most recent video released in January. The rap battle in that final video is also weird compared to the rest of their releases: In "Nice Peter vs. EpicLLOYD II," two of the show's pioneering personalities drop the costumes and characters to play themselves, where they vent professional frustrations against each other for more than three minutes.
"Don't take this battle there dude, you don't want that at all," raps Ahlquist, "Let me guess, right now you're on two beers and a pill and a half of Adderall?"
The battle, which has been watched more than eight million times, ends with Shukoff and Ahlquist making peace before getting to work at their next song. Today, months after their most intense and personal episode, fans are still waiting for a new song, a new season, for a new anything. What were ERB's creators — Musician Peter Shukoff ("Nice Peter"), improv comic Lloyd Ahlquist ("EpicLLOYD"), musician Dante Cimadamore, and producer Zack Sherwin — up to, anyway?
As Shukoff told Inverse in September, ERB is on an extended break, and there are no immediate plans to re-enter the studio. "We both felt, Lloyd and I, it was time to take a real step back," Shukoff says. After six years of creating YouTube content — "feeding the machine," he calls it — he was feeling burned out. "It was always the number one thing: before families, before friends, before health."
After ERB went hiatus in January, Shukoff and Ahlquist briefly parted ways, before reuniting in the spring for a live tour featuring the show's hits, which culminated at the B.B. King Blues Club during New York Comic Con in October. It was a homecoming of sorts for Shukoff, who grew up in Rochester in western New York. After the Comic Con gig, they took another break, but Shukoff says the live tour was necessary, functioning as both a return to form and an effort to rediscover why the two made music in the first place.
ERB began as an improv show in Los Angeles called Check OneTwo, which Ahlquist and Shukoff found their show's concept difficult to pull off before an audience. So, in 2010, Ahlquist and Shukoff teamed up with Cimadamore and Sherwin to take their show to YouTube, which at the time was only beginning to emerge as a legit creative platform. The four pooled their resources, including video cameras, a homemade green screen, and $250 for costume rentals, to make their first videos. "John Lennon vs. Bill O'Reilly," the very first battle, was directed by Dave McCary, who recently directed the critically-acclaimed indie drama Brigsby Bear. The video currently has over 37 million views.
Sky-high success followed, including ownership by Disney's Maker Studios and A-list guest appearances by Snoop Dogg, Weird Al, T-Pain, and the comedic duo Keegan Michael-Key and Jordan Peele. Then, burnout settled in, as more time and energy went into the show with some episodes costing as much as $25,000 to produce ("Ghostbusters vs. Mythbusters" and "Jim Henson vs. Stan Lee" are, to date, the most expensive in the show's history). Then, on top of the stress, the 2016 U.S. presidential election in which Donald Trump won on a nationalistic platform shook the young, progressive talents at their core.
"We have a lot of different ethnicities and races and sexualities [behind the scenes], and we were scared," Shukoff says. "People were confused. We didn't know what it meant."
During the 2012 race, the show produced "Barack Obama vs. Mitt Romney," which starred Obama impersonator Iman Crosson and Ahlquist as the former Massachusetts governor. The battle ends with Abraham Lincoln (Shukoff), one of ERB's most popular characters ("Abraham Lincoln vs. Chuck Norris" was an early hit), flying on a truly majestic Bald Eagle, rapping his verse before slapping the candidates, not out of malice, but to make them shape up and be leaders. Four years later, it was an entirely different story.
"It was an upsetting process," Shukoff says of making "Hillary Clinton vs. Donald Trump" in 2016. Behind the scenes, the show's performers and writers take great care into researching their characters, be it Julius Caesar, Michael Jordan, or the Ninja Turtles. "We go into these characters and find their voice, to understand what they would say. Normally we've done that with character we revere. Figures that are mythic," Shukoff explains. "When it came time to understand Donald Trump, it was a dark place."
Shukoff says the Clinton/Trump rivalry was "tough to spoof" because "it was a dark, sick joke." The rap battle starred YouTuber Kimmy Gatewood as Clinton and Ahlquist playing Trump, in a notably different caricature of the casino magnate-turned-president than when Shukoff played him in the Christmas-themed "Donald Trump vs. Ebenezer Scrooge" from 2013.
When the battle was released in late October last year, days before November 8, Shukoff realized how alluring Trump was to a young, digital audience. At the end of the video, which has more than than 54 million views, Lincoln slaps Trump twice. Honest Abe does not hit Hillary.
"When it came time to understand Donald Trump, it was a dark place."
"To me, that was not up for debate," says Shukoff. "Abraham Lincoln is not going to smack Hillary Clinton. Abraham Lincoln was not going to respect Donald Trump. That was an obvious, honest character choice. We saw in the comments anger towards that, and that's when I got scared."
"We were isolated in our Los Angeles world and weren't aware of the anger in the country," says Shukoff. "It caught us off guard and it depressed the hell out of me."
When the election happened, "it threw our whole team in disarray," Shukoff says.
Now, Shukoff says the Trump era "has changed me as a person and an artist." While the show has always been irreverent and sometimes politically incorrect, the YouTube innovator is now truly aware of the power in music and words. Evidence of change is the quiet retirement of the show's Adolf Hitler caricature, who first appeared in the show's most popular battle, "Darth Vader vs. Adolf Hitler," which to date has a monstrous 97 million views and spun off into its own trilogy. Post-Trump, Hitler was left off the 2017 live tour.
"When we made the Hitler battle [back then], Hitler was accepted by all as an evil lesson from the past," Shukoff says. Now, especially on YouTube, Shukoff is aware of the "celebration" of Hitler among a young, digital audience.
"We don't want to shout 'I am Adolf Hitler' in a room full of people. It was funny when we made it. Now it's not funny. So we don't do it."
As far as the future is concerned, Season 6 is in the cards. But no one is in a rush. "We tried to leave the audience with a feeling of a closing of an era," Shukoff confirms of the Season 5 finale. "But a week later, we were talking about a concert."
"We don't want to shout 'I am Adolf Hitler' in a room full of people. It was funny when we made it. Now it's not funny."
Should Epic Rap Battles return, the team may play it smarter, as opposed to bigger. "It doesn't have to [be big]. That's something we've talked about for the future, going back to basics." Throughout all six years, Shukoff says the show was all about exploring, whether they had a budget of $25,000 or $250.
"At the end of the day, it's always been me and Lloyd and Dante and Zack trying to make each other laugh, make something we think is cool with the tools we have."
It's on the stage, in front of crowded dozens ERB last found itself, where Shukoff feels more at home than a green screen for faceless millions. "That is what me and Lloyd are. We're performers," he says. "Getting in front of people, making people smile and feel good, having special moments city to city, that sounds very exciting to me right now."
So is staying home to play with his new puppy. At this time, the YouTube personality is at more peace than he's ever been, certainly more than when he was "at the height of editing and Adderall consumption."
"You could work forever, or you could pace it out," he says. He's picked pacing it out. "We daydream about all kinds of things. That's the benefit of stepping back. You can dream big again."