The Next iPhone May Shoot Lasers to Enable More Immersive Apps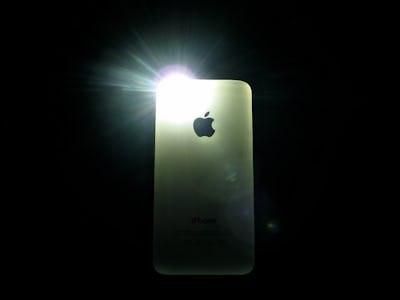 Gabriele Barni/Flickr
The iPhone X only hit shelves this month, but rumors are already circulating about its successor.
Apple's next smartphone is expected to include a laser on the back of the device for sensing how far away objects are, a feature that would enable far more powerful augmented reality applications. It's an area of technology that Apple CEO Tim Cook has spoken passionately about, and one that could change how people interact with their phones.
Bloomberg reported Tuesday that the company is exploring a sensor that would shoot out a laser and time how long it takes to bounce back to the device. With this information, the phone can calculate the distance between objects.
The feature would give a boost to augmented reality apps, which place virtual objects in the real world on the phone screen. Cook has spoken before about how apps like the Ikea catalog, which lets buyers preview furniture in their home, are just the beginning. iOS 11, released in September, provides developer tools to make building these apps easier, and more are expected to launch over the coming months.
"I think it is profound," Cook told Bloomberg in a June interview. "I am so excited about it, I just want to yell out and scream. The first step in making it a mainstream kind of experience is to put it in the operating system."
The reported feature is not the same as the TrueDepth sensor used on the front of the device for face recognition, introduced with this year's launch. In that system, the phone shoots out infrared light, before flashing 30,000 dots to determine the shape of the user's face. If it matches with the one registered with Face ID, the phone unlocks. This replaces the fingerprint scanner present since the iPhone 5S that launched in 2013.
It's not the first time a rear laser has been rumored for the iPhone. In July, a report claimed that Apple was working on a vertical-cavity surface-emitting laser, VCSEL for short, which would appear on the then-upcoming iPhone X. It didn't materialize, but if the company is considering the same technology for its next phone, it would allow for low production costs at just $2 per phone. With the iPhone X costing around $357.50 to make, it's a relatively small sum to pay.