'Pokémon GO' Gets a 'Pokémon Ultra Sun' and 'Moon' Crossover Tie-In
Get your tank tops and short-shorts ready.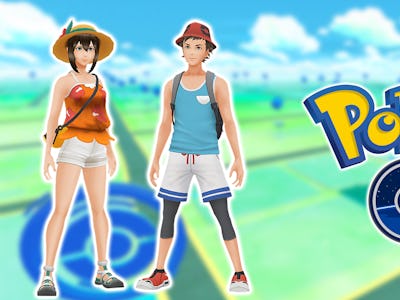 Pokemon Go
Pokémon GO briefly crossed over with the main generations of Pokémon games Monday in a totally surprising and really low-key way. Now, you can dress up your Pokémon GO avatar just like the characters from the upcoming main generation of Pokémon games.
Niantic announced via the Pokémon GO blog Monday the release of these new avatar items meant to celebrate the upcoming launch of Pokémon Ultra Sun and Ultra Moon. Pokémon GO players will be able to dress their character up in the same outfits worn by the protagonists in the new games.
Much like Sun and Moon, both Ultra games are also set in the tropical region of Alola, so the outfits reflect a much warmer climate than your avatar is probably used to. There are bathing suits, fun hats, tank tops, and items that looks like you'd only ever wear them on the beach.
The Pokémon GO versions of the character outfits look decidedly more mature than they do in-game:
The region of Alola was first introduced in Pokémon Sun and Moon, in which the player explored the Hawaii-inspired islands and completed challenges new to the Pokémon franchise. But now, strange portals in the Ultra sequels let players catch pretty much every Legendary Pokémon ever and square off against the villainous Team Rainbow Rocket, a team-up of every villainous group ever.
We're probably still a long way away from any Alola Pokémon making their way into Pokémon GO considering we're still several generations away from reaching that far. But you never know. If Niantic is willing to promote Ultra Sun and Moon in this way, maybe they'd be willing to sneak some fun Alolan Pokémon into your local wilderness.
The new outfits are now available in Pokémon GO, and Pokémon Ultra Sun and Ultra Moon will be released for the Nintendo 3DS family of systems on November 17, 2017.