Deadpool Creator Has Serious Faith in 'Justice League' Box Office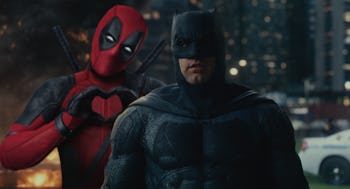 Warner Bros., 20th Century Fox
In case you need a reminder that the Marvel and DC rivalry exists only in the imagination of fans, Deadpool creator Rob Liefeld is championing hard for Warner Bros. and DC's success at the box office. On Friday morning, Liefeld tweeted a sky-high projection of Justice League's box office, putting it at exactly "a billion" dollars. It is unknown if Liefeld held a pinky to his lip while glaring at a non-existent camera.
On Friday, Liefeld simply tweeted: "Justice League will make a billion despite any negative [reactions]. BVS/Suicide Squad exhibit A & B."
Liefeld has a point, kind of. While neither Batman v Superman: Dawn of Justice or Suicide Squad, both released last year, made $1 billion at the worldwide box office, they did make serious money in spite of overwhelmingly negative reviews. Dawn of Justice claimed more than $873 million, and Suicide Squad made over $745 million by the end of each film's theatrical run.
Though Liefeld isn't a film critic, he is an avid movie buff who frequently tweets movie news, awards speculation, and opinions on his active Twitter account. When Deadpool earned a Best Comedy nomination at the Golden Globes earlier this year, he told Inverse that it felt like crashing a fancy wedding party. "If you've ever crashed someone else's wedding or a party you knew you weren't somebody designed to be there, that's how I felt Deadpool was."
Liefeld also tweeted previously that he would see Justice League even if it were, in his words, a "garbage fire," a term critics used maybe a little too much when Batman v Superman was released last year.
Just as well, Deadpool was also a serious box office powerhouse, perhaps even more than Batman v Superman and Suicide Squad due to its comparatively smaller budget. With a reported budget of just $58 million, which is spare change compared to other major superhero movies, Deadpool became one of the most successful pictures of 2016, with a reported box office gross of $783 million worldwide.
If Justice League, directed by Zack Snyder (with significant reshoots by Joss Whedon), happens to make a billion worldwide, remember that the creator of Deadpool told you first.
Justice League will hit theaters on November 17.