When to Catch the Spectacular Taurid Meteor Shower This Weekend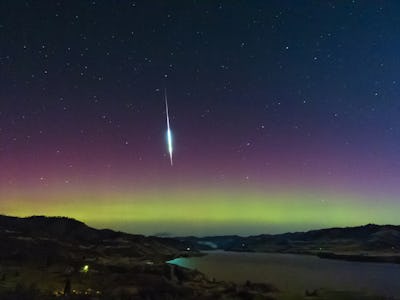 Flickr / Rocky Raybell
November is a big month for stargazers, and this weekend kicks off the fun. From late Saturday into early Sunday morning, space junk enthusiasts could catch a few bright meteors from the Taurid Meteor Shower.
The Taurids are an annual shower associated with debris from the comet Encke. They get their name because the fireballs appear to emerge from the constellation Taurus, though stargazers won't need to stare at the constellation in order to enjoy the light show.
While the Taurids are slow-moving and don't produce many meteors — only about seven per hour — think quality over quantity: this shower has been known to produce some exceptionally bright fireballs. Best of all, if you can't see the Taurids this weekend, it's no sweat — if you live in the Northern Hemisphere, you could see a meteor or two from this shower all the way until December 2.
If you're planning on watching the Taurids this weekend, EarthSky recommends going outside in the "late night hours before moonrise." Be prepared to lose a little sleep — we promise it's worth it.
Like any meteor shower, the Taurids are best paired with a dark sky and some wine, if that's your thing. While you won't need binoculars or a fancy telescope to catch the shower, you'll definitely need some patience, especially since the Taurids don't produce many fireballs. But with a little luck, you might be treated to a few bright pieces of space debris hurtling through the sky, and in our humble opinion, that's pretty darn spectacular.
Happy stargazing, everyone!