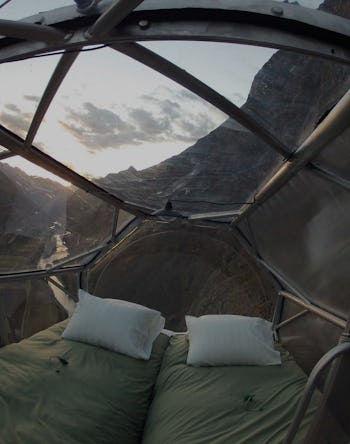 Culture
The 10 Weirdest Places to Sleep on Vacation
Your vacations aren't boring, so why should your hotel rooms be?
Skylodge Adventure Suites
You might consider yourself to be a cultivated traveler if your passport's been stamped on several continents, you can pack an entire week's worth of clothes in a carry-on, and you always manage to find an incredible locals-only restaurant that's under the radar. But at the end of the night, are you checking into a uniformly predictable chain-hotel, or a spotless Airbnb whose aesthetic could be best described as antiseptic? Perhaps it's time to make your accommodations as memorable as the rest of your trip.
To help, we've rounded up ten slightly weird places to turn in for the night.
Glass Igloo, Kakslauttanen Resort: Lapland, Finland
If you're going to Finland to see the Northern Lights, you'd be crazy not to stay in a glass igloo that allows you to view the phenomenon from the comfort of your bed. The igloos are situated in the snowy landscape of the Lapland wilderness, 250 kilometers north of the Arctic Circle. Guests have the opportunity to try ice swimming or to relax in a traditional Finnish sauna if jumping into a frozen lake isn't your thing.
Have you ever looked at a Dali painting and thought, "Man, I wish this was an actual place." Welcome to the place known to locals as "Crazy House." It is the brainchild of Vietnamese architect Dang Viet Nga, who wants to bring people closer to nature and works by painting up whimsical shapes and having them constructed by local craftsman. The resulting rooms make you feel like you've eaten some magical mushrooms, turned into an insect, and crawled inside an enchanted tree stump — no drugs required.
Sometimes it's hard to relax on vacation unless you feel like you've really earned it. In order to reach the incredible transparent rooms that hang 400-meters from the ground off a mountain in Peru's Sacred Valley, you have to first hike up said mountain. But once you get there, you're guaranteed a once in a lifetime experience that you'll only have to share with your neighbors — the condors that occasionally fly by.
Icehotel: Jukkasjärvi, Sweden
If you're one of those people who makes bad decisions while on vacation, may we suggest staying in a hotel whose rooms literally melt at the end of the season? Each year, about 40 artists are chosen from around the world to sculpt unique rooms for Sweden's Icehotel, with ice harvested from the nearby Torne River. The temperature of these rooms runs about -5 to -8 degrees Celsius and guests are provided with thermal sleeping bags that rest atop a an ice bed covered in reindeer hides. And to ensure you stay is extra charming, you will be awoke with "a cup of hot lingonberry juice at your bedside."
This may be the only time you're allowed to be near heavy machinery after popping an Ambien to overcome jet-lag. Housed inside the machine room of a 1976 Figee level-luffing crane, this room for two features industrial chic design touches and affords visitors unmatched 360-degree views when the crane is in motion. That's right — you get to operate the crane.
The downside of staying at Jules' Undersea Lodge is that there's no gym, but the upside is that you'll still get some exercise in while scuba diving to reach your accommodation. Located 21 meters below the surface in a tropical mangrove habitat, the lodge offers two bedrooms, a bathroom, kitchen, wifi, and 42-inch windows from which to take in the underwater views. Take the sheer wonder of this place a step further by ordering a pizza — delivered to you by a guy in a wetsuit (anchovies cost extra).
CasAnus: Stekene, Belgium
On average, waste is stored for about 40 hours in your large intestine. But you can stay in Dutch artist Joep van Lieshout's large intestine for as long as you like, pending a reservation. Located on the grounds of the Verbeke Foundation museum, this giant sculpture of the end of the human digestive tract comfortably sleeps two and yes, it includes a working bathroom.
JumboStay: Stockholm, Arlanda, Sweden
If you've ever tried to get a good night's rest on an airplane, you know how futile it can seem — stiff neck, cramped legs, being awakened by the guy next to you who has an unreasonably small bladder. A night aboard Jumbo Stay's 1967 747-212B jet at the Stockholm Arlanda airport is the exact opposite (including the fact that the plane is permanently grounded). By removing the seats from the jumbo jet, 33 separate bedrooms were able to be installed, including private rooms in the engines and a suite in the cockpit — complete with controls and mini bar. Put it in auto-pilot and enjoy a cockpit cocktail or two before reaching your maximum snoozing altitude.
If you're traveling on a budget, you may want to check into one of the pay-what-you-wish rooms in Dasparkhotel. Located in a public park, the rooms have been built inside freestanding, retrofitted seven-foot wide concrete sewer pipes and contain only a bed, so guests are instructed to use public bathrooms and dine at the cafe down the road. The rooms are secured with keypad door locks, so they make a much better alternative than passing out in the bus station or crashing with that guy you met at the rave.
Of course, no list of weird hotel rooms would be complete with the original oddity, Japan's capsule hotels. The original, Asahi Plaza Capsule Hotel, opened in 1979 in Osaka, and is still popular with guests looking for affordable and adorable sleeping arrangements. Each capsule comes with a bed and tv, and your own set of pj's (because of course, Japan). Though there is a strict one person per capsule rule, you'll find plenty of space to socialize in the common rooms, which include a sauna and "Manga Room," filled with Japanese comics.