Wikipedia Study Reveals a Surprising Stat About Who Edits It
A new study reviewed a decade's worth of data.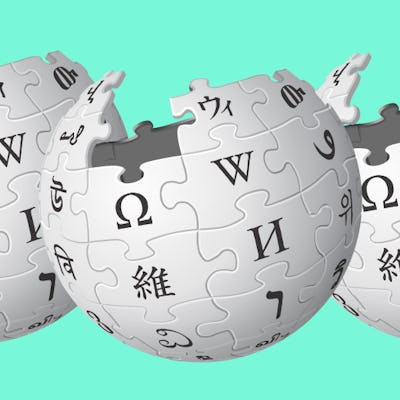 Wikipedia might be the people's encyclopedia, but it turns out it's being run by the one percent — of users, that is.
A detailed new study at Purdue University reviews Wikipedia edits from 2001 to 2010, and it led researchers to a surprising conclusion: A very small percentage of Wikipedia users edit the majority of the content on the site.
"We found that it was a very small proportion of individuals who were there all the time," Sorin Adam Matei, a professor at Purdue tells Inverse.
In fact, Matei says, 80 percent of the content on Wikipedia is generated by 1 percent of its users. That includes users who have registered with accounts and those who choose to edit anonymously, and can only be tracked via their IP address.
Still, that one percent group tends to change members over time. Only 40 percent of the people in the top one percent remained in the group on a month to month basis, Matei says. The rest drifted away, and were replaced by other eager Wikipedians.
Matei and his research partner, Brian Brett, acquired over 250 million data points related to a decade's worth of Wikipedia editing. The data was given to them by the University of California Santa Cruz; Matei says Wikipedia provides a service where you can download a history of its edits in an analyzable format.
The research propelled the duo into penning a new book, Structural Differentiation in Social Media: Adhocracy, Entropy and the '1% Effect.
The website Hatnote visually and sonically tracks Wikipedia edits.
"Do you remember the movie, The Jungle Book and the old elephant that bossed everybody around?" Matei says. "Remember how he used to say, 'an elephant never forgets?' Well, Wikipedia is that elephant.
"Wikipedia was built from the ground up never to delete anything unless something really extraordinary happened. So basically every single edit made to Wikipedia is still up."
Despite stopping the study in 2010, Matei says that additional data he's seen since then still follows the pattern of small groups doing the majority of the editing legwork.
One such editor is Justin Knapp, 34, of Indianapolis, Indiana. In April 2012, he became the first person to make 1 million edits on Wikipedia.
"Editing Wikipedia became my hobby — and for a while, it was basically all I did," he told Price Economics
He goes by the user name of koavf, and his Wikipedia profile shows he made his most recent edit today, Thursday 9, 2017, about a Wu-Tang clan album; his first edit was in 2005.
Justin Knapp has edited more than 1.5 million articles on Wikipedia.
Matei says the drive to update by volunteer editors Wikipedia is a movement.
"When people ask me why and how (editors do it), I just say it's a movement, it's a liberationist movement," he says. "We talk about women's lib and religious lib, well this is knowledge lib. The idea is that if you participate in this movement you are participating the liberation of knowledge."
Who is Editing Wikipedia Articles?
Matei notes that Wikipedia started off more egalitarian when it came to edits, but over time it became less and less so.
"After the third year it entered this steady state where inequality was kind of stable, some times dipping down a bit," he says.
A handful of Wikipedians have plugged in millions of edits to the site, and they aren't even getting paid for it. So what kind of people are editing with such a rabid fervor? The ones who really care about Wikipedia as a project, according to Matei.
"For me what this means is that human volunteer projects do not scale well if they'r simple crowd sourced projects."
But although a small group is doing the majority of the work, at least Wikipedia's aggressive transparency allows the site to maintain a level of openness regarding who's doing the edits.
And all users — there are 32,179,714 Wikipedia accounts, according to the site — are still welcome to edit almost anything on the site at any time. All revisions to pages are also available to view online.
"This is part of Wikipedia's ideology," Matei says. "Being the elephant that never forgets, that is for a purpose, to give anybody a chance to check that what's been forgotten is still there."
If you're curious to see who the top Wikipedian editors are, there's a regularly updated list available on the site.