The Company Behind 'Pokemon GO' Is Making an AR 'Harry Potter' Game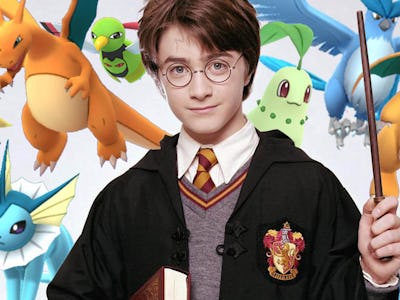 Niantic, the company behind the wildly popular augmented reality game Pokemon GO, is going to be bringing the Wizarding World to life in its next venture. If you've caught 'em all, prepare to learn all the spells, because Harry Potter: Wizards Unite is headed to smartphones soon.
Niantic made an official announcement on Wednesday afternoon, following earlier reports that a Harry Potter game was on the way. It's unclear exactly how the game, which is being co-developed by Warner Bros. Interactive, will function, but it will probably be somewhat similar to Niantic's first game, Ingress, which had players roam the real world to collect power-ups and defend IRL locations.
"With Harry Potter: Wizards Unite, players that have been dreaming of becoming real life Wizards will finally get the chance to experience J.K. Rowling's Wizarding World," the company's statement explains. "Players will learn spells, explore their real world neighborhoods and cities to discover & fight legendary beasts and team up with others to take down powerful enemies."
It's not the first time there's been talk of a Harry Potter AR game from Niantic. In July of 2016, rumors swirled that the company was indeed making a Harry Potter game, but the interview the news was based on appears to have been a hoax. It's unclear if the new, real game, has anything to do with the earlier, debunked rumor.
Pokemon GO was a huge hit when it came out about a year and a half ago, though enthusiasm has waned considerably since then, even as new Pokémon are added to the game.
Harry Potter: Wizards Unite doesn't have a release date yet, but an earlier TechCrunch reports a 2018 release.
"Stay tuned to our social channels for updates as we work to bring this game to life," Niantic teases in the initial release.