'Pokémon GO' Finally Revealed When Generation 3 Pokemon Will Arrive
Some are there now, but more are coming starting this December.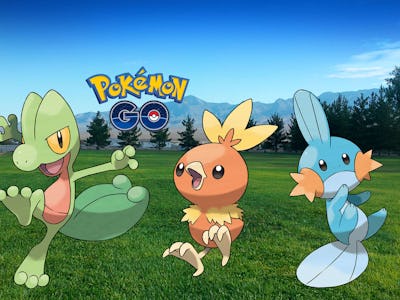 Niantic
Halloween brings with it all manner of ghouls and Ghost Pokémon to Pokémon GO, but the holiday also marks the start of Generation III Pokémon making their way into the game. Among the Pokémon that hit the game on Friday for the new Halloween event are Sableye and Banette, among other Ghost- and Dark-types, but we finally learned when the rest of the Hoenn region Pokémon might start appearing.
Developer Niantic confirmed Thursday on the Pokémon GO Blog that they'd start adding more Generation III Pokémon by the end of the year:
"The rest of the Pokémon first seen in the Pokémon Ruby and Pokémon Sapphire video games will gradually arrive starting as early as December!"
It's unclear at this point just how many Gen 3 Pokémon were added as part of the Halloween event, but there are 16 Pokémon from Ruby and Sapphire that are either Ghost of Dark in type. Between today and future additions from December onward, that could mean an addition of 135 total new Pokémon getting added to the game.
It might take quite some time before the Legendaries like Latias, Latios, Kyogre, Groudon, and Rayquaza join the game as Raid boss battles, but expect favorites like Milotic, Flygon, and even beloved Generation III starters like Treecko, Torchic, and Mudkip to potentially start appearing by the end of the year.
The Pokémon GO Halloween event runs from now until November 2 at 4 p.m. Eastern.