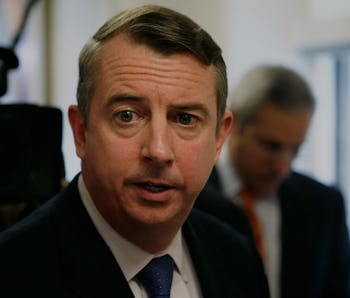 Culture
Twitter Just Embarrassed Ed Gillespie After His Election Loss
Getty Images / Alex Wong
Ed Gillespie marked his election loss in style. The Republican hopeful for Virginia's governor lost to his Democratic opponent Ralph Northam in Tuesday's vote, as part of a sweeping set of wins for the party across the state. Unfortunately, Gillespie changed his birthday on Twitter to November 7, meaning that as the results were coming through, animated balloons were floating down across his page.
Gillespie's real birthday is on August 1, but by changing his birthday to November 7, the politician's profile rained down balloons to draw attention to election day.
Twitter first introduced the feature in June 2015. Users who want to add the optional date to their profile can hit "Edit profile" to add the day and set who can see it. The site offers support for partial dates too, for people who want to celebrate the day without revealing their age.
Of course, once Gillespie lost, the balloons remained:
It's not the first time a politician has slipped up trying to adeptly use social media. In May, president Donald Trump sparked a wide variety of memes after sending a tweet with the word "covfefe." Just hours after, searches for the term spiked. Press secretary Sean Spicer doubled down on the error, claiming that a "small group of people know exactly what he meant."
In September, Texas senator Ted Cruz's Twitter account pressed the heart button on a porn video. Whether it was Cruz himself or someone with access to his account is unclear (Cruz blamed the latter).
In the United Kingdom, then-shadow chancellor Ed Balls went viral when, instead of searching Twitter for mentions of his name like he intended, he posted a tweet that simply read "Ed Balls":
April 28 is now celebrated as "Ed Balls Day."
As political campaigning integrates itself further with social media, it's unlikely that Gillespie will be the last politician to publicly slip-up on the internet.