'Thor: Ragnarok' Star Wants to Be in a 'Saga' Movie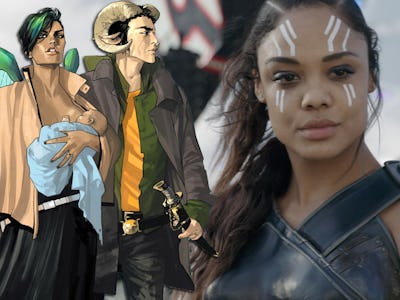 Marvel Entertainment
Now that the dust has settled on Thor: Ragnarok, Marvel fans who fell in love with Tessa Thompson as the hard-drinking, swagger-always-on Valkyrie are eager to pick her next role. Though the movie they want her for doesn't even exist, that hasn't stopped fans from suggesting Thompson should play Alana in a film adaptation of Brian K. Vaughn's Saga.
On Tuesday afternoon on Twitter, a fan named Phil Horton (@philhorton87) proposed Tessa Thompson as the ideal actress to play Alana in a movie version of Saga. published by Image Comics. Thompson, who is a self-professed fan of Vaughn's acclaimed series, responded positively to the tweet.
"After watching Thor: Ragnorok, I'm convinced @TessaThompson_x would be a perfect Alana in a Saga movie adaptation," Horton said in his tweet. Thompson soon responded: "OH MY. i'm very obsessed with SAGA. That would be so dreamy."
Thompson's positive response immediately ignited a flood of other excited fans eager to see Thompson play Alana, an ex-soldier who deserts the army to live with her husband in a marriage that their society and culture deems illegal. Already there are multiple photoshop jobs of Thompson in panels from Saga, and Thompson herself has gotten in the "mood" sharing some Saga covers on her Twitter page.
Debuting on shelves in 2012, Saga tells the story of forbidden lovers who traverse the galaxy, amidst an ongoing civil war, in order to safely raise their daughter and keep her from harm's way. One of the most popular comics on shelves today, the series is still releasing new issues, with 48 released to date.
With Thompson a recognizable talent after Thor: Ragnarok, the consensus is positive regarding Thompson's interest in Saga, despite the fact that there's no Saga movie in development. In a 2013 interview with TIME, Vaughn said that Saga was conceived "to do absolutely everything I couldn't do in a movie or a TV show" and that "I'm really happy with it just being a comic."
Still, maybe it'll all be worth it to see Thompson play Alana, who does everything she can to keep her family safe, including murder and being on an intergalactic pro wrestling soap opera.
Thor: Ragnarok is in theaters now.