We Asked Venmo What's Going on with its Mysterious New Custom Emojis
We've spotted some fall-themed ones already.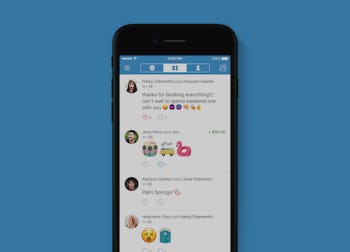 Venmo
Forget Apple's new emojis. What's going on with the popup custom ones on Venmo?
The payments platform launched its first custom emojis this year, but Venmo has kept quiet about what exactly the emojis are. It's up to Venmo users to spot them while typing in their transaction's captions.
"We don't keep a comprehensive public list," Venmo tells Inverse in an email. However, from time to time the Paypal-owned startup likes to announce the custom emojis, which seems to usually fall around holidays.
This month, Venmo's big custom emoji reveal is the craft Turkey Hand in honor of millennials' new favorite tradition of "Friendsgiving." Using the emoji will help out a good cause while you help chip in at your friend's holiday dinner.
"Every time you use the custom-designed Turkey Hand Friendsgiving emoji in a Venmo payment this November, ALDI will donate 10 meals to people in need through Feeding America, up to one million meals," the company announced.
To donate meals, you can select the Turkey Hand emoji by tapping on the emoji picker or type "Friendsgiving" to have it up on your payment note.
Other custom emojis we spotted include a fall-appropriate pumpkin spice lattes for your basic payments needs.
Venmo's custom emojis began popping up earlier this year, when it launched a music festival emoji set that included a porta potty and a pouring beer cup. A patriotic Uncle Sam's hat was launched to celebrate July 4th.
The company is known for taking their platform's emoji usage seriously. So much so, that it uses user data to help create their custom emojis.
In the case of the Turkey Hand-Aldi campaign, Venmo tells us the idea came after it found that the term "Friendsgiving" was used more than 25,000 times on Venmo payments in November 2016, a 141 percent increase over November 2015.
To further accommodate millennials' share economy habits, Venmo "will be adding new, fun and spontaneous custom emojis throughout the year."