Is 'Alias Grace' a True Story? The Truth Is Complicated
Netflix's latest murder mystery revolves around the true story of "murderess" Grace Marks.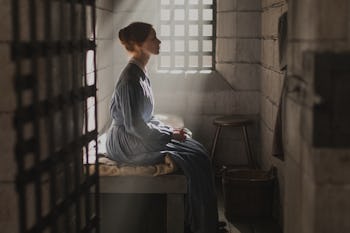 In July 1843, Thomas Kinnear and Nancy Montgomery were found dead in the cellar of Kinnear's farm in Upper Canada. Kinnear, a wealthy Scottish gentleman who'd moved to Canada to seek out further fortune, had been shot in the chest while his housekeeper and mistress, Montgomery, had been struck in the head with an ax, strangled, and shoved under a tub.
Missing from the scene were Kinnear's live-in servants, Grace Marks, 16, and James McDermott, 20. Irish immigrants who'd only served under Kinnear's roof for a few weeks, Marks and McDermott had supposedly fled the scene after stealing some of Kinnear's belongings.
Police suspected the couple (apparently they were romantically involved) from the beginning. The real mystery was whether or not they shared equal blame. Despite doubts, the pair was tried and convicted for both murders. McDermott was hung for his crimes; Marks served 30 years in prison and was later released. She moved to New York and was never heard from again.
This is a familiar story for anyone who's read Margaret Atwood's Alias Grace, as the novel is a fictionalized version of these events. You might have also seen Alias Grace sitting around at the top of your Netflix suggestions, since Netflix, looking to cash in on an Atwood story similar to Hulu's hit The Handmaid's Tale, adapted Alias Grace into a six-part miniseries, which premiered on Friday.
Netflix's series is pretty faithful as far as adaptations go. But the truth of Grace Marks' real story is still a bit of a mystery. Just how involved was she and, if she did do it, why?
Atwood became obsessed with Marks' story after reading Canadian author Susanna Moodie's account of Marks in Life in the Clearings Versus the Bush (1853). Atwood saw Marks' story as a perfect opportunity to explore female identity throughout history and set about to explore Marks' potential culpability to the crimes. No one really knows why Marks was released from prison after 30 years of confinement — perhaps because of good behavior — but Atwood was determined to figure it out.
Alias Grace is historical fiction, based on true events but with an Atwood twist or two to keep the story interesting.
Enter: Dr. Simon Jordan, a fictional doctor and budding psychologist who plans to open up his own "asylum" one day. He becomes a bit obsessed with Grace and begins to the look for the "truth" in her memories, which he believes can be uncovered through counseling sessions. Again, Jordan isn't real, simply a storytelling tool for Atwood to explore the truth. But he's certainly interesting.
Atwood's novel and Netflix's subsequent miniseries explore the four real-life theories as to what might have driven Marks to such unprecedented violence.
The first, that Marks had a mental illness such as schizophrenia or had suffered a psychotic break due to her rough upbringing, was wildly popular; due to this, part of her time in prison was spent in a mental hospital. Others believed Marks was faking a mental illness to get away with a gruesomely planned murder — that she was absolutely the conniving murderess people accused her of being.
The third theory held that Marks had been possessed by the spirit of her former best friend Mary Whitney, who died tragically because of a spoiler that we won't reveal here. People held that Marks' gentle disposition wouldn't have been able to carry through such a crime and that a more violent spirit was responsible.
That leads to the final theory: that Marks had been the one to die tragically rather than Whitney and that Whitney had been posing as Marks. If that were the case, then it was Whitney who was released 30 years later and disappeared into the United States, never to be heard from again.
While the world may never know what really happened to Grace Marks, at least Netflix can make some really fun television out of it in the meantime.
Alias Grace is now available to stream on Netflix.