Netflix Trailer for 'Alias Grace' is Like 'Serial' as Historical Fiction
Is convicted murderer Grace Marks an "inhuman female demon"?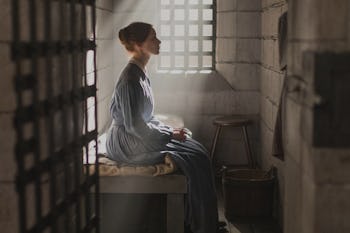 Netflix, Entertainment Weekly
Netflix is bringing the next Margaret Atwood story to life with Alias Grace, an adaptation of the Canadian author's 1996 novel of the same name. The first official teaser for the miniseries premiered Friday to introduce the world to the fictionalized true story of convicted murderer Grace Marks.
Based on a true story and directed by Mary Harron (American Psycho) the show's official synopsis from Netflix is:
The six-hour miniseries follows Grace Marks, a poor, young Irish immigrant and domestic servant in Upper Canada who, along with stable hand James McDermott, was convicted of the brutal murders of their employer, Thomas Kinnear, and his housekeeper, Nancy Montgomery, in 1843.
In the trailer, Grace (Sarah Gadon) introduces herself as an "inhuman female demon," something many of her contemporaries accused her of being. Others thought "that I am an innocent victim of a blaggard, forced against my will and in danger of my own life."
While Atwood set out to capture the true story of what happened in 1843 and the trials Grace and James (Kerr Logan) endured, there is an element of fiction, as Atwood originally wrote her novel through the lens of a fictional doctor, Simon Jordan. Dr. Jordan (Edward Holcroft), who "researches" the case, will be featured in the series.
"'Murderer' is merely brutal," Gadon's Grace intones in the trailer. "I'd rather be a murderess than a murderer if those are the only choices."
Alias Grace premieres on Netflix on November 3.