What Do Smart Kitchen Gadgets Need to Actually Work? We Asked an Expert
More than Wi-Fi, that's for sure.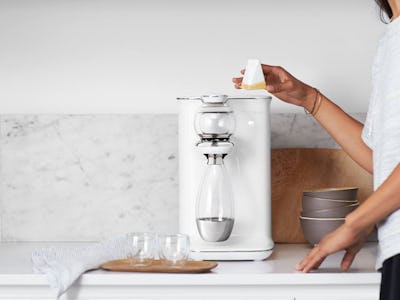 Teforia
Another day, another failed "smart" kitchen gadget.
Silicon Valley's latest victim is the $1,000 smart tea infuser, Teforia.
In a statement to its customers, the tea startup's founder and CEO Allen Han stressed the reality of the smart hardware business, stating: "We simply couldn't raise the funds required in what is a very difficult time for hardware companies in the smart kitchen space."
In the wake of Juicero, this marks another wake-up call for smart kitchenware startups relying on hype and connectivity, creator of the Smart Kitchen Summit Michael Wolf told Inverse.
"Han's letter should have said that high-priced [internet-]connected kitchen products are having difficulty raising money," said Wolf. This is because there are many examples of new and innovative products in the kitchen that are having significant market traction, which Teforia did not.
Wolf gave examples of the beer-brewing kit PicoBrew and compact cooker Thermomix as high-end smart products that have found success, unlike Teforia. And it wasn't by raising more money, but by smartly finding their consumers.
So then, how did they do it?
"Companies need to think about the problem they are solving for consumers," he told us by email. "If you create a $1,500 product for something that most consumers are used to spending less than dimes on (tea bags), you need a really good way to connote the value to them."
Consider PicoBrew. People are passionate about beer, and many would pay to create their own. PicoBrew fills that niche by creating the first automated process for making authentic, high-quality beer. Similarly, Thermomix ties together strong community, process automation and unique sales model to create a successful product.
Some other examples include the programmable pressure cooker Instant Pot, which Wolf calls a great case study of the importance of community.
"The company actively helped create a strong social community on Facebook around recipe sharing," he said. That combined with an affordable product that had a new take on a trusty category — the pressure cooker — that created a foundation for a connected product to turn into a viral sensation.
And some of these successful smart kitchen companies managed to profit off it all, Wolf said. Recently, we've seen the precision cooking product Anova acquired by Electrolux for $250 million, while the similar ChefSteps' Joule has become more mainstream.
What these successful companies all have in common—and what up and coming kitchen startups can learn from their common characteristics—is the age-old tech world motto: problem-solving.
"They found success not only by having enthusiastic communities around their products, but because they've solved a problem a lot of people have strong interest in," Wolf said.
If you liked this article, check out this video of a fully automated, robotic kitchen.