Netflix Is Considering at Least Three 'House of Cards' Spin-Offs
Does the 'House of Cards' universe still function without Frank Underwood?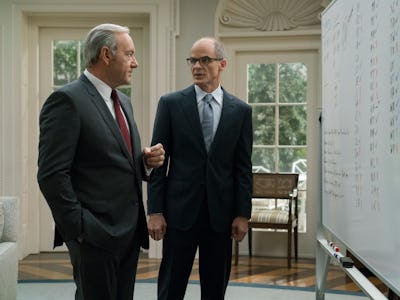 Netflix
Frank Underwood's legacy might live on after all. Three House of Cards spin-offs are reportedly in the works at Netflix, one of which already has a focus and writer attached.
The most fully formed idea, as reported by Variety on Tuesday, is a show based around Doug Stamper, who was portrayed by Michael Kelly in House of Cards Seasons 1 through 5. Stamper swung wildly from being Frank Underwood's scapegoat to his right-hand man throughout his time on House of Cards, falling prey to Underwood's underhanded dealings more often than not.
The potential Stamper spin-off is set to be written by Eric Roth — House of Cards' executive producer for the show's first four seasons — who is currently attached to TNT's The Alienist. And at least two other spin-offs are currently being explored, though writers haven't been attached. All would exist in the same universe as House of Cards, though it seems likely that House of Cards star Kevin Spacey wouldn't be involved.
This news comes only two days after BuzzFeed published a report on Sunday featuring allegations by Star Trek: Discovery star Anthony Rapp that Spacey made sexual advances on him when he was just 14 years old in 1986.
On Monday, TVLine broke the news that House of Cards would be canceled after the upcoming sixth season, though Netflix stated that decision was made before the accusations against Spacey came to light.
With these spin-offs, Netflix seems to be following in HBO's footsteps. Many credit House of Cards and Game of Thrones with helping solidify Netflix and HBO's reputations (respectively) as television heavy hitters. As Game of Thrones approaches its final season, reports of potential Westerosi spin-offs have dominated the Thrones news cycle. It seems Netflix, even in the midst of potential scandal, is still looking to keep House of Cards fans happy.