Netflix Cancels 'House of Cards' But Says It's Not Because of Kevin Spacey
They've suspended production on the sixth and final season.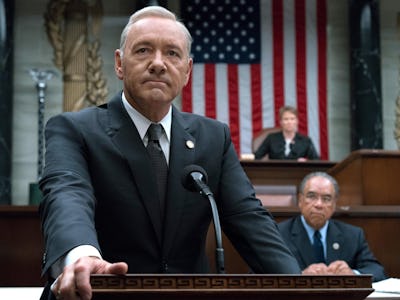 Netflix
In the wake of allegations that Kevin Spacey made sexual advances against an underage co-star decades ago, Netflix has canceled House of Cards. But the streaming service said the decision to end the show after an upcoming sixth season was not strictly because of Spacey, though they are "deeply troubled."
The controversy surrounding Spacey exploded on Monday, when the 58-year-old actor responded to Star Trek: Discovery star Anthony Rapp's allegations that Spacey made sexual advances on him when he was just 14 years old in 1986.
That news, which broke in a report BuzzFeed published late on Sunday night, prompted Spacey to respond in a statement he shared on Twitter. Spacey said he didn't remember the incident, but apologized for "what would have been deeply inappropriate drunken behavior." Spacey also came out as gay later in the statement, which was viewed with scorn by many as an attempt to use confirmation of his sexuality as a smokescreen.
On Monday, TVLine broke the news that House of Cards would be ending after the upcoming sixth season. Although the news broke on the same day as the Spacey scandal, Netflix says the decision had been made long ago, which Time confirmed.
"Media Rights Capital and Netflix are deeply troubled by last night's news concerning Kevin Spacey," Netflix and the studio behind House of Cards said in a joint statement on Monday. "In response to last night's revelations, executives from both of our companies arrived in Baltimore this afternoon to meet with our cast and crew to ensure that they continue to feel safe and supported. As previously scheduled, Kevin Spacey is not working on set at this time."
The creator of House of Cards, Beau Willimon, who left the show after the fourth season, shared a statement of his own on Twitter.
Update: On Tuesday, Netflix announced it has suspended production on the sixth and final season. It's unclear when — or if — production will resume and the season will air.
MRC and Netflix have decided to suspend production on House of Cards Season Six, until further notice, to give us time to review the current situation and to address any concerns of our cast and crew.