Daisy Ridley Says Rey's Parents Reveal in 'Last Jedi' Is a "Moving Moment"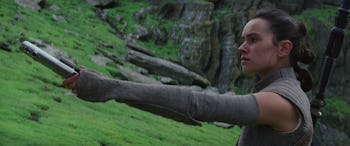 Lucasfilm
Last Jedi star Adam Driver might've messed-up in a royal way when he called Rey a princess in hiding in an interview published over the weekend, but now Rey's actress, Daisy Ridley, is offering up some clues about the character's parents.
In an interview with Yahoo Japan (as translated by /Film) Ridley states that she's known the answer to Rey's parentage for several years now, and says that the truth will be revealed in The Last Jedi.
Whatever the answer, I just hope that the moment everyone finds out is an enjoyable experience for viewers. And, though I have known the answer for several years now, the series that Rian Johnson created has turned out to be spectacular beyond even my imagination. To be honest, I was very moved. I think it will be a moving moment for everyone else as well.
On the one hand, this might not seem like too much of a hint because, of course you'd hope that Rey learning about her parents would be moving. But, from an audience perspective, unless The Last Jedi creates some serious pathos out of nowhere, it's far more likely that the moment will be moving because viewers have already met her parents. Is this evidence that she's Luke's daughter, or perhaps Han and Leia's other child?
Further complicating things is Ridley's comment in August that her parentage "wouldn't matter." Well, which is it? Is it a moving moment, or does it not matter? The compromise could be that, while Rey knowing the truth is indeed emotional, it doesn't change who she is or what she does.
We'll find out, finally, when Star Wars: The Last Jedi opens on December 15.