How Square Aims to Replace the Cash Register, According to Its Designers
Say goodbye to the iPad twist.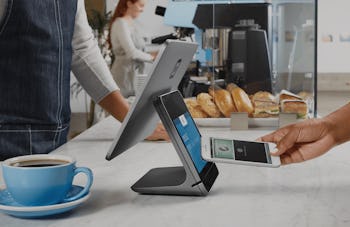 Square
Twitter founder Jack Dorsey's tiny but mighty startup Square is expanding its small business transaction offerings.
The payments startup is rolling out its latest product, dubbed Square Register. It's geared at businesses looking for a more "professional" point-of-sale option, the company told Inverse.
"We built Square Register based on years of insight from working with sellers about what they need on their countertop as their business grows," said Jesse Dorogusker, head of hardware at Square. "This is the first time we're delivering a product that incorporates everything we're known for in one place: beautiful hardware, powerful software, and a robust managed payment experience."
Square calls its latest hardware "a versatile, fully integrated point-of-sale, built in-house to work seamlessly with any business." Using crowdsourcing to design the features for the all-in-one device, the payments startup set out to address some of the most asked-for features by small business users.
One of the Square Register features is the Ethernet connection option, which is vital for businesses' looking for reliability and avoiding losing sales during Wifi outages, Square told Inverse.
Another sought-after security feature from business users is the detachable, customizable customer display that Square Register provides. If you've ever used Square at a coffee shop, you're familiar with the iPad twisting you're subjected to while paying for your morning flat white. The goal of the new design is to provide a modern look without compromising valuable countertop real estate.
Replacing the traditional cash register is the latest piece of the payments puzzle for Square, which has found that as their business customers grow and become complex, their financial needs grow with them.
All in all, the company's mission is educating consumers on how how to use their digital payment platforms — like Apple Pay and Google Wallet — which is in line with the latest trends in payments.