4 Things the Internet Got Right About 'Stranger Things 2'
Y'all worked hard over this past year.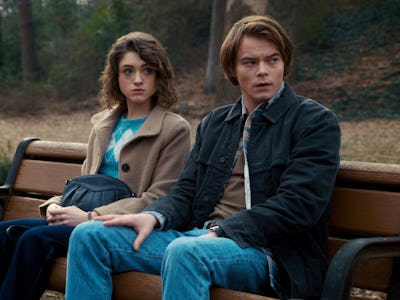 Netflix
So, Eleven wasn't revealed to be a reincarnation of Chief Hopper's real daughter, and the new villain of Season 2 wasn't just a figment of everyone's imagination, but that doesn't mean all your Stranger Things fan theories were wrong. There was a lot of guess-work amongst fans going into Stranger Things 2. And a lot of you really did figure some things out.
This post (obviously) contains spoilers for Stranger Things 2.
Eleven actor Millie Bobby Brown famously said back in August that Stranger Things fans had pretty much already figured Season 2 out. "All the answers are out there," she said. "You just have to piece them together."
And, damn, if you guys didn't work hard to try and piece it all together.
Here are the four biggest plot points in Stranger Things 2 that also just so happened to be wildly popular online months before the show's premiere.
4. Yes, there was finally #JusticeForBarb
After a year of fans demanding #JusticeForBarb and the CW's Riverdale doing a wonderful (yet totally cringe-worthy) Stranger Things shoutout with Barb actress Shannon Purser (#JusticeForEthel, anyone?), Stranger Things 2 gave Barb her justice.
No, she wasn't magically brought back to life; but her death weighed heavily on Nancy Byers' mind and, determined to let Barb's parents in on the truth that Barb was dead rather than missing, Nancy worked to expose Hawkins Laboratory. The world at large still had no idea that the Hawkins Lab actually opened an interdimensional portal and released monsters into the real world, but at least Barb's parents can now grieve properly.
3. Jonathan and Nancy finally got together
"Jancy" (Jonathan Byers and Nancy Wheeler) shippers, rejoice! After almost two seasons of Jonathan casting forlorn glances in Nancy's direction while she made out with Steve Harrington (Joe Keery) in the hallway, Nancy (kinda-sorta) dumped Steve and got together with Jonathan.
The phrase "how was the pull-out" will forever remain iconic.
2. None of your original favs died
Sorry, but Bob Newby (Sean Astin) and Mews don't actually count as original characters. As of the end of Season 2, Eleven (Brown), Mike Wheeler (Finn Wolfhard), Nancy Wheeler (Natalia Dyer), Joyce Byers (Winona Ryder), Will Byers (Noah Schnapp), Jonathan Byers (Charlie Heaton), Dustin Henderson (Gaten Matarazzo), Lucas Sinclair (Caleb McLaughlin), Jim Hopper (David Harbour), and Steve Harrington (Joe Keery) are all alive. That's what matters.
RIP Bob, Mews, and d'Artagnan the Demodog.
1. Will (kind of) became the villain
Poor Will. Hopefully, someone else will take some heavy hits in Season 3 instead. After being held in the Upside Down for the majority of Season 1, Will was inundated with the Season 2 monster, which entered him in a painful-to-watch scene that involved shadows flying into his body. Soon enough, Will began acting as a sort of conduit (or, rather, a "spy") for the monster. Will's connection with the monster kind of made him the villain.
Luckily, Joyce is a bomb-ass mom and figured out how to banish the monster from her son by literally sweating "the virus" from his system.
Stranger Things Season 2 is now available to stream on Netflix.