Why Xbox One X Fans Will Love This Real Ford Truck Designed for 'Forza 7'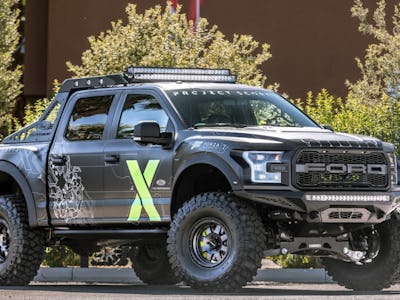 Microsoft
Xbox and Ford took the wraps off a modified F-150 Raptor truck on Monday, designed to mark the launch of the Xbox One X next week, and it looks like the ideal ride for fans of Microsoft's latest console. The vehicle, which makes a number of gaming-themed adjustments, will be shown at the Specialty Equipment Market Association Show in Las Vegas this week, before the virtual version becomes available to players in the Forza Motorsport 7 racing video game next year.
"The Xbox One X is the world's most powerful console," says Henry Ford III, Ford's performance marketing manager. "It's the benchmark in the console gaming world, while F-150 Raptor is its equivalent in the world of pickup trucks."
This is an Xbox car through and through. The new F-150 has been kitted out in graphics and paint designed to mimic the Xbox One X, with wheels, bumpers, a chase rack and LED lightning that all use the green hue used on every Xbox since the original launched back in 2001. A giant "X" emblazoned on the side mimics that of the Xbox One X logo, with the words "Project Scorpio" across the windshield referencing the new machine's internal codename during development. To top it off, there's a Forza Motorsport 7 logo by the front wheel.
View the vehicle, officially titled the 2017 Ford F-150 Raptor Xbox One X Edition, below:
Beyond the aesthetics, drivers will see a number of performance boosts comapred to the standard vehicle. These include upgraded Alcon brakes, a Fabtech six-inch lift kit, a new intercooler and a Ford Performance Borla exhaust.
Microsoft has worked to make the new Forza game, which launched earlier this month, perform better on the new console. With the added graphics performance, existing Xbox One games can run with better visuals and 4K resolution on supported television sets. Forza 7 will run at full 4K with high dynamic range colors at 60 frames per second when the machine launches on November 7 for $499.
"We have long enjoyed and valued our partnership with Ford Performance and feel privileged to work with them on the incredible F-150 Raptor, an iconic American legend," says Mike Humphreys, a senior director at Forza developer Turn 10 Studios. "The Ford Raptor is built on top of another iconic legend, the Ford F-150 pickup, resulting in technical excellence and off-road innovations that make it a Forza fan favorite."