Xbox One X Will Play These 118 Games in Stunning Quality
Can Microsoft beat PS4 Pro to win 4K gaming?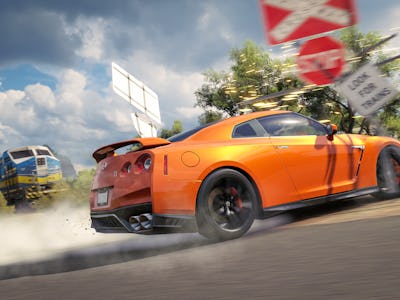 Microsoft
The Xbox One X is almost here. Microsoft's $499 console, set to launch November 7, plays the same games as the $249 Xbox One S, but thanks to a higher performing set of internal graphics chips, some games will play in far higher quality. The company boasts gaming at full 4K resolution at 60 frames per second, meaning those with a high-end TV will be able to see more detail than ever. On Monday, during the Gamescom conference in Cologne, Microsoft revealed the initial list of 118 Xbox One games that will run with enhancements on the One X.
The list is crucial to getting gamers on side. Microsoft is competing with Sony, which has followed a similar structure with the $399 PlayStation 4 Pro playing the same games as the $249 PlayStation 4 Slim. But while the PS4 Pro promises 4K gaming, it only has a 4.2 teraflop graphics chip, compared to the six-teraflop chip found in the One X. That means developers are more constrained on the PS4 Pro, and may depend on graphical tricks like checkerboarding to reach 4K without actually running directly at that resolution.
Alongside more power, Microsoft could take the lead if it can also convince buyers that it has a better selection of enhanced games. Here's the currently announced list:
A Plague Tale: Innocence
Anthem
ARK: Survival Evolved (Game Preview)
Ashen
Assassin's Creed Origins
ASTRONEER (Game Preview)
Battlerite
Below
Black Desert
Brawlout
Chess Ultra
CODE VEIN
Conan Exiles
Crackdown 3
Danger Zone
Dark and Light
Darksiders III
Dead Rising 4
Deep Rock Galactic
Diablo III: Reaper of Souls – Ultimate Evil Edition
Dishonored 2
Dishonored: Death of the Outsider
Disneyland Adventures
Dovetail Games Euro Fishing
DRAGON BALL FighterZ
Dynasty Warriors 9
EA SPORTS FIFA 18
EA SPORTS Madden NFL 18
Elex
Elite: Dangerous
EVERSPACE
F1 2017
Fable Fortune
Fallout 4
Farming Simulator 17
Firewatch
For Honor
Forza Horizon 3
Forza Motorsport 7
Gravel
Halo 5: Guardians
Halo Wars 2
Hand of Fate 2
Hello Neighbor
HITMAN
Homefront: The Revolution
Injustice 2
Jurassic World Evolution
Killer Instinct
Killing Floor 2
Kingdom Come: Deliverance
Life is Strange: Before the Storm
Mafia III
Mantis Burn Racing
Metro: Exodus
Middle-earth: Shadow of War
Minecraft: Xbox One Edition
Minion Masters
Monster Hunter: World
NBA 2K18
Need for Speed Payback
Ooblets
Ori and the Will of the Wisp
Outcast – Second Contact
Outlast 2
Paladins
Path of Exile
PlayerUnknown's Battlegrounds
Portal Knights
Pro Evolution Soccer 2018
Project CARS 2
Quantum Break
Raiders of the Broken Planet
Railway Empire
Real Farm Sim 2018
ReCore
RESIDENT EVIL 7 biohazard
RiME
ROBLOX
Robocraft Infinity
Rocket League
Rush: A Disney Pixar Adventure
Sea of Thieves
Slime Rancher
SMITE
Sonic Forces
Star Wars Battlefront II
State of Decay 2
STEEP
Strange Brigade
Super Lucky's Tale
SUPERHOT
Surviving Mars
Tennis World Tour
The Artful Escape
The Crew 2
The Darwin Project
The Elder Scrolls Online: Morrowind
The Elder Scrolls V: Skyrim Special Edition
The Last Night
The Long Dark
The Surge
The Witcher 3: Wild Hunt
Titanfall 2
Tom Clancy's Ghost Recon Wildlands
Tom Clancy's The Division
Train Sim World
TT Isle of Man – Ride on the Edge
Warframe
Warhammer: End Times – Vermintide
Wolfenstein II: The New Colossus
World of Tanks
WRC 7 FIA World Rally Championship
Zoo Tycoon