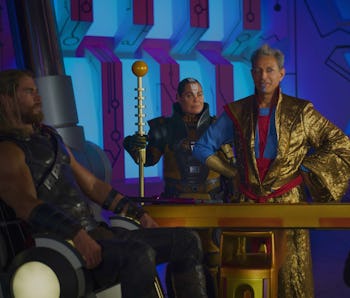 Entertainment
'Thor: Ragnarok' Standout Could Be in a Movie With a 'Guardians' Character
Marvel Studios
One of Thor: Ragnarok's standout characters could be having a little family reunion in a future Marvel film.
In an interview with Fandango posted on Monday, Marvel Studios president Kevin Feige hinted that we could eventually see the Grandmaster (played by Jeff Golblum) meet up with his brother, the Collector from Guardians of the Galaxy who was played by Benicio Del Toro.
"It would be awesome man. It would be great," Feige said. "We love the idea that they're brothers. If you go on the Guardians of the Galaxy: Mission Breakout attraction at California Adventure in Anaheim, you will see a picture on Collector's wall of he and the Grandmaster playing some sort of a space chess game, which right now is the only place you can see the two of them in a frame together, but let's hope that changes someday."
In response to Fandango asking if that space chess scene could be seen in an upcoming film, Feige said, "Exactly!"
In the comics, the Collector (Tanaleer Tivan) is a member of the Elders of the Universe, sole survivors of long dead races, alongside the Grandmaster, who is sometimes depicted as his brother. The Collector first appeared in the Marvel Cinematic Universe in a mid-credits scene for Thor: The Dark World, where he was given the Aether, the Reality Stone, by the Asgardians Sif and Volstagg. He next showed up in Guardians of the Galaxy, where he almost acquired the Power Stone courtesy of the Guardians, until his assistant attempted to use the stone to free herself from servitude, and ended up killing herself and destroying a chunk of the Collector's archive.
Feige obviously isn't promising anything here, but if the meet-up is going to happen, it would be interesting to see if it occurs before or after the Avengers go up against Thanos in Infinity War. Del Toro is set to reprise his role in the film, but it may be too late for Goldblum to join unless he was already a part of the movie. Even if this reunion doesn't happen, though, fans of the Grandmaster will be able to get more of the character soon in a short with Thor's former roommate Darryl.
Thor: Ragnarok comes out in the US on November 3.