Here's Why Apple Fired an Engineer Over a Viral iPhone X Video
Don't vlog about unreleased Apple products.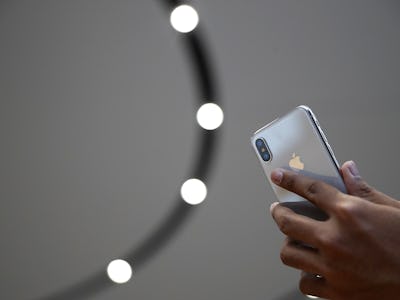 Getty Images / Justin Sullivan
It goes without saying, but Apple will drop the ban hammer immediately for the slightest infractions against their intellectual property. The tech giant has struck again — this time, firing an engineer for letting his daughter make a vlog about the iPhone X.
Vlogger Brooke Amelia Peterson made a bubbly video of herself touring the Apple campus with her parents. In one scene, her dad uses Apple Pay on his iPhone X to pay for lunch at Caffè Mac, Apple's in-house employee cafeteria. "I did the Apple Pay on that phone, so I wanted to test it," he says to the camera. Petersen then includes footage of herself playing with the new, unreleased iPhone X — she swipes through the notifications screen, shows off the Animoji, and demonstrates swiping upwards to return Home from an app. She was most impressed with the 12 megapixel camera. "Look how good that looks" she says, while the camera is in front-facing mode. All in all, very innocent, but very against Apple's rules: Verge notes that some of Peterson's footage includes employee-only codes for unreleased Apple products.
The video went viral, because of course it did. Peterson posted a subsequent vlog in which she shows her video next to Ellen DeGeneres on YouTube's trending videos page. "I made the fun, little, innocent video that was just supposed to be a fun memory of me and my family," she says sadly. "And Apple let [my dad] go. At the end of the day, it doesn't matter how good of a person you are, if you break a rule, they have no tolerance…it was an innocent mistake and he fully apologizes." She insists that her family is "not angry with Apple" and will be okay. Peterson is clearly shaken towards the end of the video, and later begins crying as she explains the online harassment directed towards her family.
Here's the original offending video, with the follow-up video below. The iPhone X will be available on November 3, 2017.