Google Says Its Early Bet on A.I. Is Paying Off
Computers are now adapting to humans, not the other way round.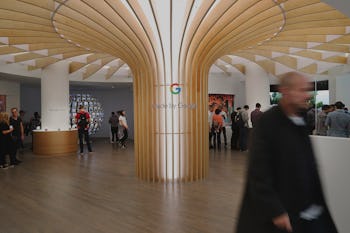 Getty Images / Spencer Platt
Google made its name on its search engine, and it's still fundamentally the world's biggest search company. But, as Alphabet CEO Sundar Pichai said Thursday on the company's latest earnings call with investors, the future is all about artificial intelligence — and, the fears of rivals like Elon Musk notwithstanding, A.I. is already changing lives for the better.
"It's been particularly exciting to see our early bet on artificial intelligence pay off and go from a research project to something that can solve new problems for a billion people a day," said Pichai. "Even though we are in the early days of AI, we are already rethinking how to build products around machine learning. It's a new paradigm compared to mobile-first software, and I'm thrilled how Google is leading the way."
Expanding on these remarks, Pichai said A.I. enables computers to adapt to the people using them, rather than people having to change their behaviors to match the particular demands of the latest computer or phone interface. He credited the old standby Google Search and the more recently introduced Assistant as fundamental to this shift.
"We introduced Assistant last year, and it continues to get better every day, helping people get things done in the real world," he said, before moving to other apps where machine learning has changed the user experience. "500 million people now use the machine learning smarts of Google Photos to manage and share their memories. The billion-plus people using Google Maps now get thoughtfully contextual information like how to find parking where they are going. And businesses are seeing how AI can help them grow. Our open source software TensorFlow is allowing anyone to use machine learning to solve problems, even in industries like agriculture."
With these statements, Pichai staked out machine learning and A.I. as pivotal not just to Google's future but also to its present — and, by extension, the present of all of its users. Implicit in all this is that artificial intelligence need not be the exotic danger that those like Elon Musk have outlined in their more alarmist statements.
Pichai himself recently responded to Musk's latest critique of Google's A.I., as the Tesla and SpaceX founder had noted the newly introduced Google Clips "doesn't even seem innocent." The Alphabet CEO said last week that it was Google's responsibility to be a "thoughtful and ethical steward" for the emerging technology. The statements in Thursday's earnings call represent Pichai's argument for why Google already is precisely that.
If you liked this article, check out this video in which Elon Musk's A.I. bot beats the world's best Dota 2 players.