Elon Musk Reveals the Reason for Camping on the Roof of the Gigafactory
What was he doing, exactly? Now we know.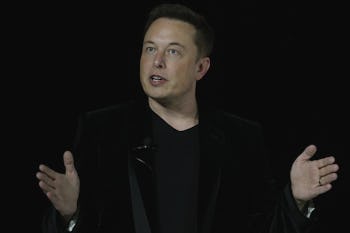 Getty Images / Justin Sullivan
Even one of tech's biggest players isn't immune to the temptation of drunk 'gramming.
After putting in a day of work at Tesla's Gigafactory, the Tesla giant battery plant near Reno needed a break with the help of whiskey and sugary treats.
Musk's followers might have been a bit worried about the potential dangers of the boozy campout, which prompted him to set the record straight.
But apparently the reason the CEO was country-singing — "Ring of Fire" by Johnny Cash — the night away while roasting marshmallows was merely a logistical one.
"BTW, just want to express a word of appreciation for the hard work of the Tesla Gigafactory team. Reason I camped on the roof was because it was less time than driving to a hotel room in Reno. Production hell, ~8th circle …," Musk tweeted the next afternoon.
And "production hell" is where Tesla has been for the better part of this year as it churns out Model 3s, as Musk mentioned back in July.
"Is a performance version coming at some point for Model 3?" Ryan McCaffrey, an executive editor at IGN, asked Musk on Twitter. "It has not been mentioned since you tweeted about it last year. Please!"
"Probably middle of next year," Musk responded. "Focus now is on getting out of Model 3 production hell. More versions = deeper in hell."
Gathering around an open fire fits right in with Musk's 2017 "hell" theme, if you ask us.
If you liked this article, check out this video on the nerdy way Elon Musk comes up with the names for his inventions.