Elon Musk's Gigafactory Campfire Is the Hottest Event of the Year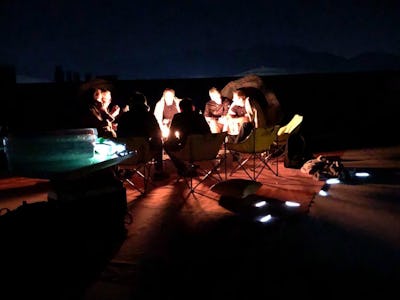 Elon Musk/Instagram
Elon Musk has set up camp on top of the Gigafactory, Tesla's giant auto plant in the middle of the Nevada desert that's churning out Tesla Model 3 electric cars. Not content with developing the transportation vehicle of the future, the CEO let off some steam by hosting a campfire on the factory roof.
The dimly lit scene, on top of what's expected to be one of the biggest buildings in the world when it's complete, drew quick responses from Musk's followers. The tech entrepreneur has a strong following across social media, where he discusses future technologies and his favorite science fiction novels.
"I never thought I would have to say this but please don't burn down the Gigafactory," said Twitter user Michael Hols.
"This is nice," said Instagram user haydenlowe_. "This will definitely be a scene in a movie made about you one day."
In terms of volume, the still under-construction building is expected to be the second biggest in the world. Total planned floor space is planned to reach 13.6 million square feet, only just smaller than Boeing's Washington plant. Musk has suggested, however, that it could eventually grow bigger.
The image, which shows six people huddled round the fire, can be seen below.
Musk also shared a video of a singalong to Johnny Cash's "Ring of Fire," toasting marshmallows in the dead of night.
"Whiskey, fire, s'mores and JC," Musk said in the video's caption. "Also, hotdog or not hotdog?"
The Gigafactory is what Musk has referred to as "the machine that builds the machine," thanks to its combination of nimble transport robots and heavier production machines. The finished building will be capable of producing batteries at a faster rate than that of bullets leaving a machine gun. Its 35 gigawatt-hour planned annual production rate is estimated to be enough to transition one hundredth of the world's energy use onto renewables.
Musk faces stiff competition, though, with Northvolt planning to build a 32 gigawatt-hour factory in Europe, before Tesla has even announced its final plans for a European factory. CATL plans to develop a factory in China with an annual capacity of a staggering 50 gigawatt-hours.
When completed, it may be harder to hold similar events on top of the Gigafactory roof. Concept art shows the finished building covered in solar panels, leaving little room for sitting down.
Perhaps this will be both the first and last Gigafactory campfire.
If you liked this article, check out this video on how Elon Musk became so popular.